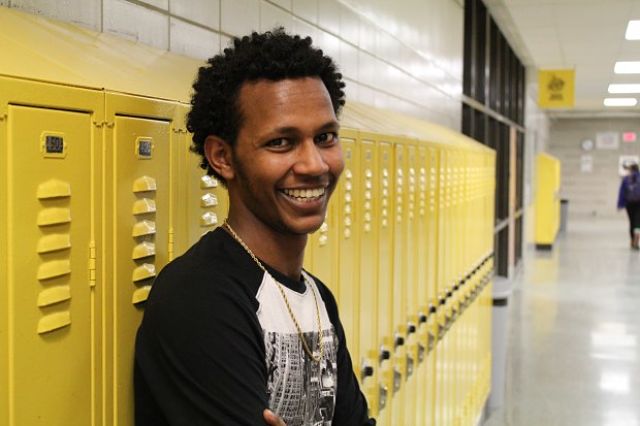 By MAJA BECKSTROM
February 19, 2016
During his freshman year at Como Park High School in St. Paul, Hordofa Burka didn't say much. He had just arrived from Ethiopia and didn't understand English. Four years later, Burka is on the honor roll and has been selected as one of two Minnesota recipients of the prestigious Horatio Alger National Scholarship, which comes with $22,000 to attend any college.
"There aren't many kids who work quite as hard as he does," said Caroline Church, assistant director with the college preparation program Upward Bound at Como. "He's in Advanced Placement classes and has gotten into every single one of his colleges. That to me is amazing."
What makes it more amazing is Burka's past.
He does not know much about his childhood, only that his parents were farmers in Ethiopia, and that shortly after he was born, his father was likely killed by government forces. His mother fled to Kenya with other ethnic Oromo refugees and left her five children in the Ethiopian capital of Addis Ababa.
"After they took my father's life, she thought they would follow and kill her, too," said Burka, who grew up knowing his mother only as a face in a framed photo on the wall and an occasional voice on the telephone from Kenya encouraging him to do well in school and stay out of trouble.
"I look back, and now I feel guilty," he said. "I did not have strong feelings for her then. I did not miss her."
In Ethiopia, two older sisters worked to support the orphaned family. They told Burka and a middle brother and sister to focus on school and not to dwell on their mother or worry about the future. In 2007, Burka's mother received permission to enter the United States as a refugee. Five years later in April 2012, Burka and three of his siblings joined her in Minnesota.
"It was really emotional when I met my mom," said Burka. "Everybody cried. She brought flowers, a lot of flowers. She wouldn't believe I was this tall. She was happy and laughing. No one went to bed that night."
—
Join the conversation on Twitter and Facebook.