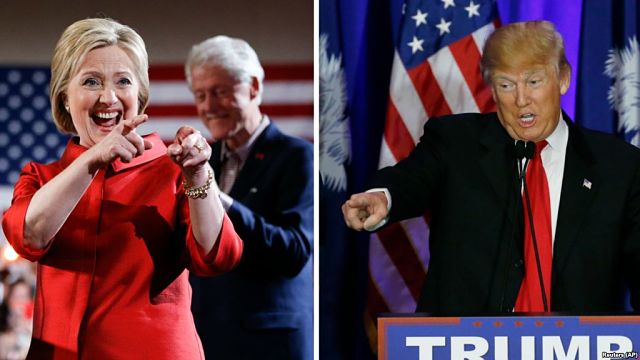 VOA News
By Cindy Saine
Last updated on: February 20, 2016
Former Secretary of State Hillary Clinton on Saturday won the Nevada Democratic caucuses, defeating Vermont Senator Bernie Sanders by a margin of 52 percent to 48 percent.
And in South Carolina's closely fought Republican primary, initial results showed Donald Trump edging out his rivals by taking more than 34 percent of the total vote. Senators Marco Rubio of Florida and Ted Cruz of Texas were each taking about 21 percent.
The Associated Press reported that after his poor showing in Saturday's South Carolina contest, former Florida Governor Jeb Bush ended his campaign for the presidency. He, Ben Carson and Ohio Governor John Kasich each appeared to garner less than 10 percent of the vote.
After Trump's big victory in New Hampshire last week, his win Saturday was likely to solidify the billionaire real estate mogul as the Republican front-runner. Cruz and Rubio are now locked in a close race for second place, with each hoping to attract support from Republicans who do not support Trump.
Clinton jubilant
Analysts said Clinton's win showed that her national network of support remained formidable, and that Sanders must do more to appeal to Democrats beyond the young people who have formed the core of his campaign.
Clinton was jubilant as she addressed cheering supporters at her Nevada headquarters.
"Some may have doubted us, but we never doubted each other." She congratulated Sanders for a hard-fought race, singling out hotel and casino workers, students and families for their support in the Western state.
Speaking to his Nevada supporters, Sanders said, "We are bringing working people and young people into the political process in a way we have not seen in a long while."
Sanders was upbeat as he said he would soon be on a plane to South Carolina, and then would compete in 11 states on Super Tuesday, March 1. "The wind is at our backs and we have the momentum."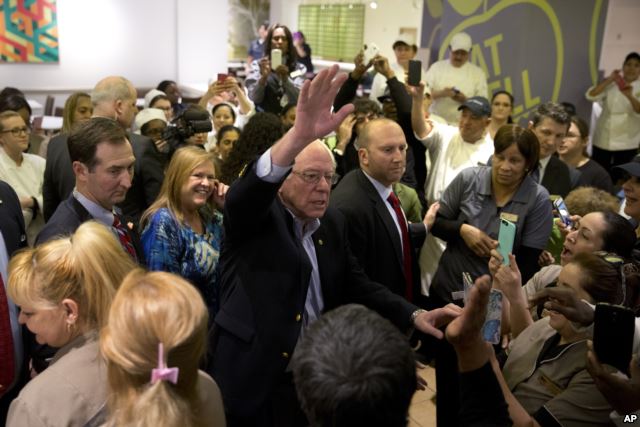 Democratic presidential candidate Sen. Bernie Sanders of Vermont waves to hotel workers at MGM Grand hotel and casino in Las Vegas, Feb. 20, 2016. (AP photo)
He said he believed that when Democrats hold their nominating convention in Philadelphia in July, voters will see "one of the great political upsets in the history of the United States."
Both campaigns had viewed multiethnic Nevada as a test for electoral viability nationwide. Exit polls indicated that Sanders won the Hispanic vote in Nevada, but that Clinton won the African-American vote by a large margin.
Clinton will head into next week's Democratic primary in South Carolina with momentum, and she already has a commanding lead in the polls there. She told her supporters she was traveling to the delegate-rich state of Texas late Saturday to campaign there, and that her husband, former President Bill Clinton, was traveling to Colorado.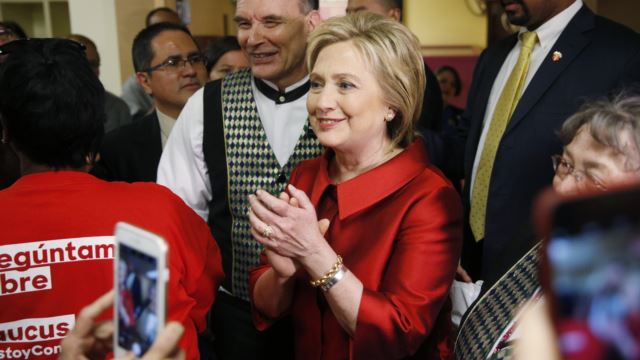 Former Secretary of State Hillary Clinton won the Nevada Democratic caucuses on Saturday, February 20, 2016. (AP photo)
It was the second win of the 2016 election season for Clinton, after she narrowly won the Iowa caucuses earlier this month. Sanders won the New Hampshire primary by a big margin. Political experts said the clear win in Nevada was a big relief for Clinton and her backers, after recent reports of a Sanders surge. Analysts said there was now more pressure on Sanders to prove he can win in a more diverse state than New Hampshire.
Watch: Trump, Clinton Big Winners in US Presidential Contests
—
Related:
U.S. Election 2016: Year of The Outsiders
NH primary: Trump Wins, Hillary 'Feels the Bern'
In Iowa Trump Defeated, Hillary Wins
Former NYC Mayor Bloomberg, Sensing an Opening, Revisits A Potential White House Run (NY Times)
Join the conversation on Twitter and Facebook.