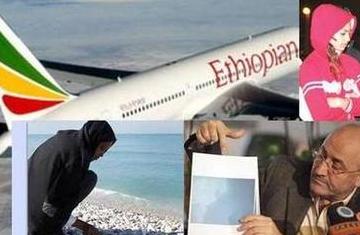 ET-409 Update: Tuesday, February 23, 2010
(Watch Videos Below The Headlines)
Ethiopian Airlines says all crash bodies recovered (ABC News)
Preliminary report says Ethiopian Airlines crash caused by "human error" (Times Live)
Second aircraft involved in Lebanon ET409 crash (Airlines/Airport Examiner)
Crashed Ethiopian plane cockpit recorder recovered (AP)
Ethiopian Air Says Too Soon to Rule Out Sabotage in Crash Prob (BusinessWeek)
Lebanese minister rules out bomb on Ethiopian jet (AP)
Lebanon confirms 45 bodies retrieved from Ethiopian jet crash (Earth Times)
Ethiopian jet's 2nd black box retrieved from sea (The Associated Press)
Ethiopian plane 'exploded' after take-off: Lebanon minister (AGENCE FRANCE-PRESSE)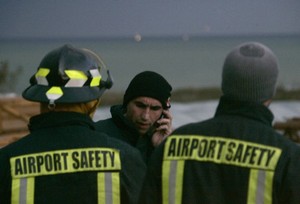 Lebanese airport safety employees near the crash
site. Credit: REUTERS
Ethiopian Airliner's flight recorders sent to France (Daily Star – Lebanon)
Ethiopian Jetliner's Recorders Found ( Reuters)
Main parts of crashed Ethiopian jet found off Lebanon (Reuters)
Ethiopian air crash shines light on lives of migrant workers (LATimes)
Lebanon gets relatives' DNA in Ethiopian jet crash (AP)
Wreckage from Ethiopian plane found in Syrian waters (Earth Times)
Sub to help search for crashed Ethiopian jet (AP)
Salvage crews hunt for Ethiopian airliner black boxes (AFP)
Racism in Lebanon? Commenters Respond to Ethiopian Airline 409 Tragedy
British investigators say Ethiopian Airlines plane crash 'similar' to earlier disaster
Ethiopian Airlines plane makes emergency landing (AFP)
Navy sends second ship to aid Ethiopian flight salvage
(By Stars and Stripes, daily newspaper published for the U.S. military)
Ethiopian crash jet flight recorders found off Lebanon (BBC)
Ethiopian Airlines defends pilot after fatal crash (AFP)
Army says black boxes located from Ethiopian crash (The Associated Press)
The Latest Press Release from Ethiopian Airlines
Terrorism cannot be ruled out in the crash of Ethiopian Airlines Flight 409 (Canada Free Press)
Flight ET409 Exposes Lebanon's Racist Underbelly (Huffington Post)
Names of Passengers Aboard Ethiopian Airlines Flight 409
Was The Doomed Ethiopian Plane Formerly Owned by Ryanair?
Photos | Ethiopian Airlines crash (Seattle Post Intelligencer)
Ethiopian plane black box found, toll reaches 32 (Indo Asian News Service)
Ethiopian Air #409 Crashes near Beirut — The Coverage So Far
Boats scour ocean for Beirut crash black boxes (AP)
The United States Extends Its Deepest Sympathies
Ethiopian Airlines plane veered off course before sea crash
Ethiopian Airlines CEO on search for plane's black box
Search widened for victims of Ethiopian jet crash
White House saddened by deaths in Lebanon crash
Storms or sabotage? The mystery of Flight 409
Video: 90 perish in Ethiopian jetliner crash (ntvkenya)

Video: Ethiopian Airlines Crashes into the Mediterranean (CBS)

Video: Ethiopian Plane Crashes Off Lebanon (AP)

Raw Video: Lebanon Plane Crashes After Takeoff (AP)

Ethiopian Airliner Crashes Near Beirut

Video: History of Ethiopian Airlines crashes

Raw Video From The Ethiopian Airlines Crash Site Off Beirut:
–
Reports on Monday, January 25, 2010: (Minutes after the crash)
Lebanon says Ethiopian plane crash site located
Rescue workers have located the crash site of an Ethiopian Airlines plane that went down just off the Lebanese coast on Monday, Lebanon's Transport Minister Ghazi al-Aridi said. "(The crash) site has been identified three-and-a-half km (two miles) west of the (coastal) village of Na'ameh," Aridi told reporters at Beirut international airport. He said search and rescue operations were under way but refused to give any further details. He also said it was too early to say what caused the crash but confirmed the plane took off from Beirut international airport in stormy weather. Aridi said an investigation into the cause was under way. (Reuters)
Ethiopian Airliner Crashes Near Beirut
CNN
An Ethiopian airliner with 83 people on board crashed into the sea after takeoff from Lebanon early Monday, Lebanese army officials said. The Boeing aircraft was en route from Beirut to the Ethiopian capital, Addis Ababa, when it disappeared from radar 30 minutes after takeoff from Rafik Hariri International Airport in Beirut about 4 a.m. local time, Lebanon's National News Agency reported. On board were 54 Lebanese nationals and 29 people of other nationalities, the army officials said. No additional information was immediately available.