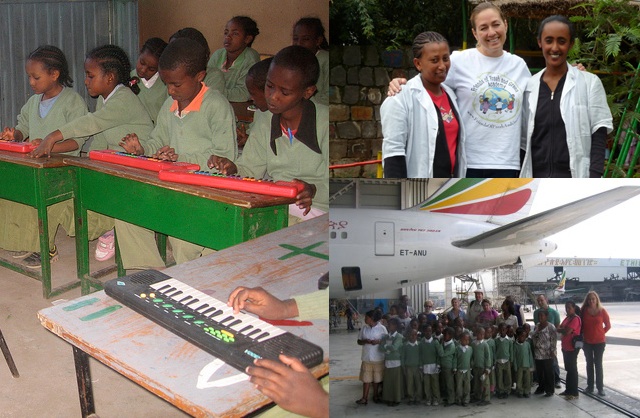 Tadias Magazine
By Tseday Alehegn
Updated: Wednesday, February 29, 2012
New York (TADIAS) – In 2008, Trish Hack-Rubinstein, a flight attendant based in New York City, joined several of her airline colleagues on a volunteer trip to Ethiopia, and it became the beginning of new friendships and lasting connections to the country. That's when she met Muday Mitiku, an Ethiopian teacher and founder of Fresh and Green Academy – an innovative elementary school in Addis Ababa that provides not only academic curriculum but also meals and showers for impoverished school children. At the end of each day, when the students are ready to go home, their caregivers also pick up clean water supplied by the school's water purification system. Muday Mitiku has been serving as Fresh and Green Academy's Director since 2000, and the school is striving to add one grade level each year with the support of Friends of Fresh and Green Academy in the United States.
Initially Fresh and Green was started as a fee-paying kidergarten, but Muday quickly realized the dearth of access to education for street children living in the area. As she decided to enroll these children into the academy free of charge, some parents pulled their kids out of the school. The venture was at the crossroads when Trish and her friends visited Fresh and Green four years ago.
"The school had no other source of funding as it was a private school started by this amazing woman," Trish said in a recent interview with Tadias Magazine. "But when she started to bring in the poor children from the streets the money ran out." She added: "I fell in love with the kids, moms, staff, director, and everyone else and knew I couldn't just go back to the USA and leave them to fend for themselves. So I started Friends of Fresh and Green Academy Inc., a 501(c)(3) that supports the school. "
What's a normal school day like for a student at Fresh & Green? Trish describes the youngsters arriving at school at 8am, eating breakfast, brushing their teeth, taking showers, and putting on clean clothes and then having their academic lessons in accordance with the national curriculum. Extracurricular activities begin after lessons end at 3pm, which include classes in art, drama, music, computers, and physical education. "The students have been helping with the planting of vegetable gardens, which produce some of the food they eat," Trish explains. "By 5pm the school children have eaten dinner and await their caregivers to pick them up from school."
What makes Fresh and Green stand out as a model school for under-served communities is that it not only provides free education, clean water and nutrition services for students, but also supports the mothers of the children as part of its Mothers Co-op program.
"The Mothers Co-op has grown tremendously since it was started in 2006," Trish said. "It began as 20 mothers helping to prepare school meals in shifts, and also meeting once a week to string beads. It expanded to 50 women cooking, beading and weaving, as well as working in a store in front of the school." Looms and sewing machines have been installed on school grounds where the mothers are also learning to sew and make clothes. The Mothers Co-op also incorporates social networking traditions such as the Ethiopian coffee ceremony.
Through the assistance of Friends of Fresh and Green Academy, the overhead rent of the store is paid for by donors. Speaking about her non-profit organization Trish noted, "We have very little overhead, and no paid employees, so over 80% of the donations go directly to the operation of the academy."
Friends of Fresh and Green Academy hosts quarterly fundraisers including child sponsorship programs, a silent auction and raffle event at Cielo in downtown New York in May, and a poker fundraiser in September. Fundraising is also conducted using various social media-based campaigns.
"Tadias readers can help us spread awareness, attend fundraisers, donate goods and services like clothing, shoes, fabric for the coop," Trish said. "We can always use volunteers with fundraising ideas, accounting skills, grant writing and PR experience. But of course, most of all we need funds."
Ultimately, Trish and other supporters of Fresh and Green Academy would like to see a self-sustaining institution. "Our dream is to build a school that can accommodate students through grade 12, with a boarding facility, a center for the Mothers Co-op, a working farm to cut down on the cost of food and possibly provide income for the school," she said. "And a guest house for volunteers to rent rooms, which will also provide some income for the school."
Reflecting on her work with the academy, Trish shares, "For the first time in my life I truly feel like I am doing what I was put on this earth to do. Nothing gives me more joy than to see the children eating playing and learning. Every time I visit the school (three times a year) I am smothered with hugs and kisses and I couldn't be happier. I look forward to the day when I see them graduate from university and make a difference in their community and country. Everyone has the right to food and education."
—
To learn more about the organization, visit: www.friendsoffreshandgreen.com.