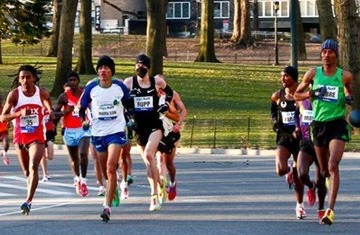 Above: Ezkyas Sisay (L), and Gebre Gebremariam (R) head
the field rounding a curve in Central Park early into the 2011
New York City Half Marathon – Photo credit: OhSnapper.com.
Published: Wednesday, March 23, 2011
New York (Tadias) – Just as sure as March in North America brings the return of foliage, warm weather and long days, it signals the continuation of Ethiopian domination of foot-race competitions in city streets and parks across the United States.
The fickleness of spring, however, did prompt a number of "what ifs" from runners on both coasts last weekend.
Gebre Gebremariam, who last November won the ING New York City Marathon, was runner-up Sunday in the New York City Half Marathon which looped Central Park before coursing through Times Square and finishing in Lower Manhattan.
Gebremariam, a favorite to win the race, pulled away from Mo Farah, a native Somali who now lives in Great Britain, in the last 25 meters only for Farah to counter with a victorious sprint to the finish line. Farah finished the 13.1-mile event in 60:23, with Gebremariam two seconds back.
"I don't like the cold," Gebremariam said after the narrow loss to Farah, one of the hottest runners in the world the past year who was making his half-marathon debut.
Girma Tesfaye, an Ethiopian who splits residency between his homeland and the Bronx, NY, finished fourth in 60:35, and Ezkyas Sisay, an Ethiopian who trains in Flagstaff, AZ, was 10th in 61:56. Girma Tola, who was fifth in the 2008 competition, finished 14th this time in 62:46.
The only Ethiopian runner who said he did not mind the cold weather was Girma, who after the race chastised himself for not finding the reserve in the homestretch to overtake third-place finisher Galen Rupp of the United States.
"For me, the weather was very nice," Girma said, noting a year ago he finished 10th at the event. "I like it cold. It was fantastic for me. The weather, and the course."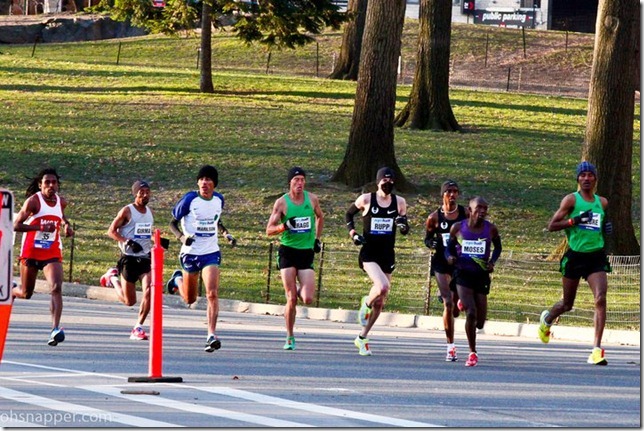 From left: Ezkyas Sisay and Tesfaye Girma, both of Ethiopia, Gomes Dos Santos Marilson of Brazil, Alistair Cragg of Ireland, Galen Rupp of the United States, Mo Farah of Great Britain, Kigen Kipkosgei Moses of Kenya and Gebre Gebremariam of Ethiopia, near Mile 2 in Central Park during the New York City Half Marathon – which took place on a perfect day for running, March 20, 2011. (Photo credit: OhSnapper.com)
Ethiopians also represented in the women's division of the NYC Half. Werknesh Kidane, Gebremariam's wife and a pre-race favorite, finished fifth in 1:09:32, acknowledging afterwards that she was slowed as the first morning of spring mustered temperatures only in the 30s. Shewarge Alene, the sister of noted Ethiopian runner Alene Reta, was fourth in 1:09:25.
"It was good, but not very good because of the weather," said Alene. "I am happy with the time in my first half-marathon in New York. I will keep training and keep trying to do my best."
Gebremariam's second-place finish was worth $10,000, while Girma earned $3,500 and Sisay $400. Alene was awarded $3,500, and Kidane $2,500.
Across the country in a rain-deluged Southern California, Ethiopians swept the Honda Los Angeles Marathon.
Markos Geneti, who trains in Flagstaff, AZ, was the overall winner in a course record 2:06:35. He won the first-place award of $25,000 and a Honda Insight EX car valued at $23,000, plus the $100,000 prize for the first person to cross the finish line under a gender challenge in which professional women were given a 17:03 head start.
The women's division winner was Buzunesh Deba, who lives in the Bronx and trains in New Mexico, in 2:26:34. The bronze medal for third-place was claimed by Mare Dibaba of Ethiopia in 2:30:35. Deba won $25,000 and a car, while Dibaba won $10,000.
"I didn't like the rain," Deba said afterwards. "My husband (Ethiopian runner Worku Beyi) wanted me to run 2:24, but I don't like running in the rain."
At the Yeungling Shamrock Marathon in Virginia Beach, VA, Alemtsehay Misganaw of Manhattan was runner-up Sunday in the half marathon, finishing the windy, waterfront course in 1:15:06. A day earlier Misganaw won the women's division of the event's 8K competition in 26:59. Misganaw's weekend earnings totaled $2,000.
"It was funny," Misganaw said of her runner-up finish in the feature event, adding she did not know whether to laugh or cry.
"The last two miles I was taking it kind of easy and a lady passed me, but I didn't see her," she explained. "It was windy, and my eyes were watery. She looked like a boy, and had on a cap. The race official leading the women's field was riding his bike beside me the whole way. He didn't see her either. He thought I was the first woman, too.
Misganaw continued, "At the finish line the announcer said, 'Yesterday's winner is second today,' and I said 'What?' The bicycle guy was upset too, and apologized. I smiled, but wanted to cry. I told the winner, 'You're lucky,' and she said, 'I know.'"
—
About the Author:
Jason Jett is a New York based freelance journalist. He writes on human interest stories as well as specialized reports for niche audiences on various subjects including sports and fitness. He has worked in the news business for thirty years.
Watch: 2011 New York City Half Marathon- Highlight Video (NYRR)