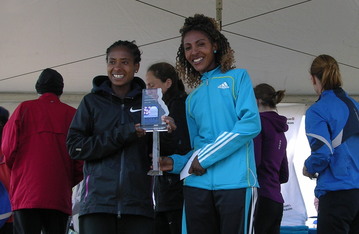 Above: Tigist Tufa, left, and Alemteshay Misganaw after their
third- and fourth-pla​ce finishes in the Cherry Blossom 10 Mile.
Published: Tuesday, April 5, 2011
Washington, D.C. (Tadias) – Ethiopian runners demonstrated swagger aplenty at major road races across the U.S. last weekend.
"Yes, I expected to win," Lelisa Desisa said to a question about his confidence level after winning the Credit Union Cherry Blossom 10 Mile Run here Sunday morning, some 24 hours following a victory at the Cooper River Bridge Run in Charleston, S. C. "He wants to compete all the time," said Haddis Tafari in translating for Desisa immediately after the Sunday morning race that started and finished beside the Washington Monument as part of the nation's capital annual Cherry Blossom Festival. When asked were he fatigued, Desisa nonchalantly replied "a little bit," then added it is not too tiring to run back-to-back races when you win both.
"I am happy," he said smiling
Tigist Tufa of Ethiopia completed the same back-to back challenge in the women's division of the two events, finishing third in both Washington and Charleston.
Sharwege Alene of Ethiopia won the women's race of the Cooper River Bridge 10K in 33:06. "I came here to win, and that's what I did," Alene told reporters after the race.
Finishing two seconds behind Alene was Janet Cherobon Bawcom, a naturalized U.S. citizen born in Kenya. Tufa's time was 34:02 and Aziza Aliyu of Ethiopia was fourth in 34:29. Four-time Boston Marathon winner Catherine Ndereba of Kenya finished fifth in 34:34.
Kenyan Julliah Tinega won the women's division at the Cherry Blossom, with countrywoman Risper Gesabwa a second back at 54:03. Tufa was third in 54:13 and Alemtsehay Misganaw of Ethiopia was fourth in 55:17.
Misganaw also doubled during the weekend, finishing fifth in 33:52 at the Ukrop's Monument Avenue 10K in Richmond, Va.
Four Ethiopian men finished in the Top 10 of that Saturday-morning event, won by Julius Kojo of Kenya in 29:02. Tesfaye Dube finished second in 29:07 and Abiyot Endale was third in 29:18. Derese Deniboa was eighth in 29:43, and Ketema Nigusse finished ninth in 29:43.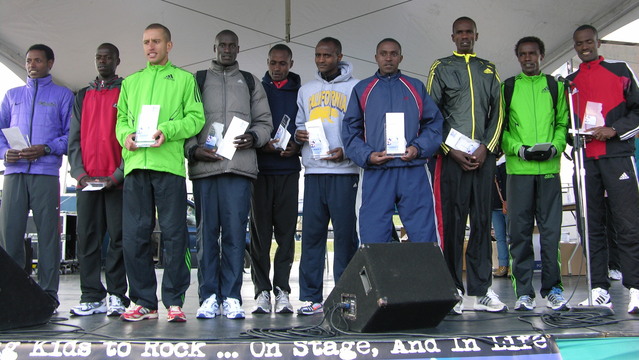 Lelisa Desisa, Allan Kiprono, Ridouane Harroufi, Lani Kiplagat, Macdonard Odara, Tesfaye Sendeku, Stephen Muange, Simon Cheprot, Joseph Boit and Girma Tola with their awards at the Cherry Blossom 10 Mile Run.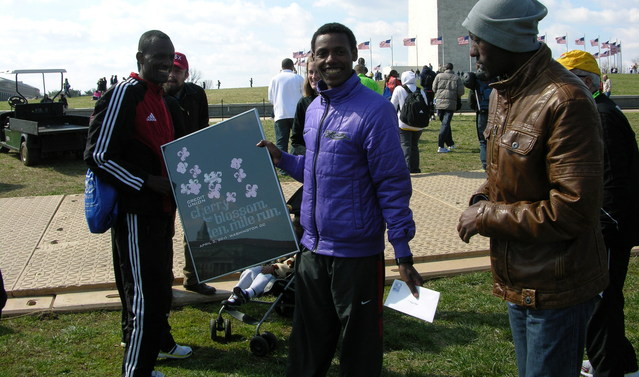 A victorious Lelisa Desisa celebrates with Girma Tola, left, and Derese Deniboa.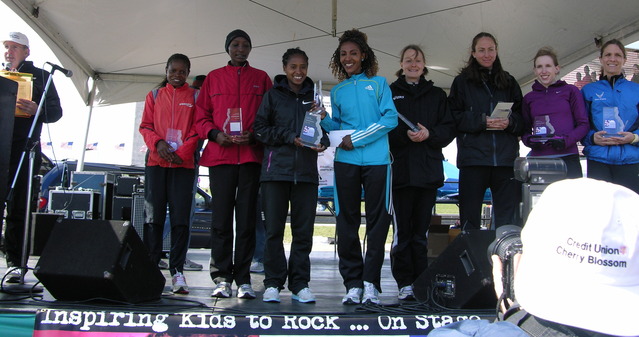 From left: Julliah Tinega, Risper Gesabwa, Tigist Tufa, Alemtsehay Misganaw, Claire Hallissey, Kelly Jaske, Michelle Miller and Sharon Lemberger with their awards.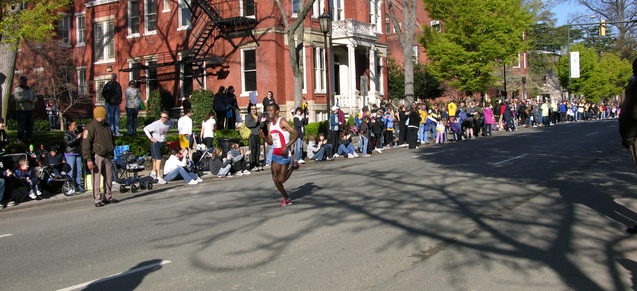 Tesfaye Dube finishing second in the Ukrop's Monument Avenue 10K in Richmond, VA.
In California, Ethiopians swept the Carlsbad 5000 — a 5k event that in past years featured Meseret Defar, Tirunesh Dibaba and Markos Geneti and which perennially is dominated by runners from Ethiopia and Kenya.
Dejan Gebremeskel won the competition in 13:11, defeating Eluid Kipchoge of Kenya by three seconds. The competitors swapped finishing positions from a year ago, when the Ethiopian was runner-up.
Aheza Kiros (15:13) claimed the women's victory by a second over Kenya's Pauling Korikwiang. Kiros also won the event in 2009, and finished second to Defar last year.
Overall some 8,500 runners participated in Carlsbad, a record 41,314 registered in Richmond, all 15,000 available slots were filled in the 10-mile event and another 1,000 for a 5K run-walk here at the Cherry Blossom, and there were more than 34,690 finishers in Charleston.
Desisa won the South Carolina competition with a decisive kick for a two-second gap over Kenyan Simon Ndrangu in 28:59. Ethiopia's Bado Worku Merdessa was third in 29:15, the same time as fourth-place finisher Ezkyas Sisay — yet another runner who competed in two races in two days along the East Coast.
The weekend's focus was on Washington, were Desisa broke the course record by two seconds with his 45:36 finish. The race was virtually an African championship event, with the Top 12 comprised of six Kenyans, five Ethiopians and a Moroccan.
In addition to Desisa, for Ethiopia Tesfaye Sendeku was sixth, Girma Tola, 10th, Sisay, 11th, and Tesfaye Assefa 12th.
Desisa battled side by side with Kenyan Allan Kiprono over the final two miles of the race, twice surging ahead only for Kirprono to close the gap until decisively pulling away in the homestretch.
"He's a good runner," Desisa said of Kiprono and the back-and-forth during the final miles. "I was testing him. I realized he was a good runner, so.."
So Desisa said he waited until the end to out sprint Kiprono because he knew his finishing kick was stronger than the Kenyan's.
Desisa was runner-up at the 2010 Cherry Blossom in a controversial finish. He charged Kenyan Stephen Tum used an elbow to nudge him off a straight path to the finish-line tape, but after a review of photos and video race officials declared Tum the winner.
Two months later Desisa's experience in winning the 2010 Bolder Boulder10K in Colorado was in sharp contrast to that contentious finish in Washington. He was declared the winner in Boulder after joining hands with countrymen Tilahen Regassa and Tadese Tola in a show of camaraderie that saw them cross the finish line in a 1-2-3 Ethiopian sweep that was as stunning as exemplary in a sport that obsesses over individualism.
Asked if he considered such a gesture as he and Kiprono approached the finish line Sunday, Desisa smiled and said emphatically, "No, no, no."
"We (he, Regassa and Tola) are the same group," Desisa stressed, noting that national pride is a big motivation for Ethiopian runners.
–
About the Author:
Jason Jett is a New York based freelance journalist. He writes on human interest stories as well as specialized reports for niche audiences on various subjects including sports and fitness. He has worked in the news business for thirty years.
Related:
Sign of Spring: Ethiopian Runners Renew Domination of U.S. Road Races