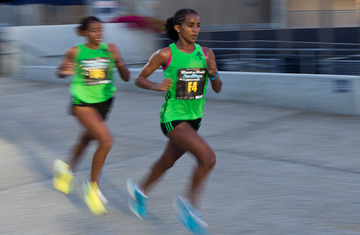 Tadias Magazine
By Jason Jett

Published: Tuesday, June 7, 2011
New York (Tadias) – Buzunesh Deba of New York City ran the 11th-fastest marathon in the world this year in scorching the course on Sunday at the Dodge Rock n' Roll San Diego Marathon.
Deba, an Ethiopian, won the event by nearly two minutes after completing the first-half of the course alongside fellow countrywoman Misikir Mekkonin. She finished the race in 2:23:31, while Mekkonin, who lives in Albuquerque, New Mexico, was runner-up in a personal best time of 2:25:21.
Deba's performance on Sunday was described by elite runners coordinator Matthew Turnbull as "one that will make people stand up and take notice."
It also raises the question: are Ethiopian runners in the United States closing the competitive gap with their compatriots from home?
During the course of the running season in the United States and Canada, major events often come down to a contest between Ethiopians who reside in America and Ethiopians who live in Ethiopia — with many of the runners who travel direct from Addis Ababa being members of the Ethiopian National Athletics Team.
Add in highly competitive Kenyan runners, both those who train in North America and others who travel direct from Kenya, and North America-based Ethiopian runners face a daunting challenge at every competition.
In an attempt to level the field, U.S. based Ethiopian runners are abandoning New York City and Washington, D.C., and seeking high-altitude training grounds of their own
Alemtsehay Misganaw, one of the most consistent athletes on the North America running circuit the past five years, escapes winters by going home to Ethiopia and training at high-altitude from early December to late March — essentially experiencing a second summer each year.
In this seasonal migration she is not alone among runners in the United States. There is a cadre of Ethiopians and Ethiopian-Americans who have found athletic success in America. Serkalem Abra, Genna Tufa and Atalalech Ketema – all seasoned veterans on the North American circuit, also spent last winter at various training sites in and around Addis Ababa, returning to the United States just in time for the spring start of the running season.
With a foot in both countries, either as permanent U.S. residents or traveling with multi-year athletic visa, the runners' winter mission is to gain enough benefit from Ethiopian altitude-training to be competitive from April to November in races in North America.
Deba, Mekkonin, and other runners who do not spend winter in Ethiopia are training at mountainous locales in this country so they, too, can travel direct from altitude to competitions.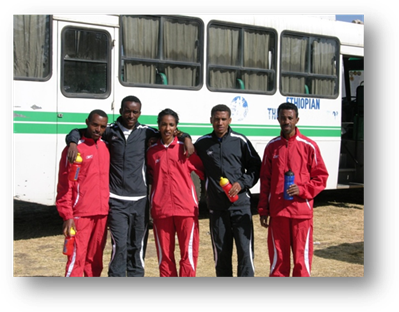 Alemtsehay Misganaw, center, and Mikael Tesfaye, to her left, with
Ethiopian National Athletics Team member Abraham Yilma, right, at
the Jan Meda training course in Addis Ababa. (Photo by Jason Jett).
Belainish Gebre, who won the 2010 Honolulu Marathon, has trained the past three years in Flagstaff, Arizona. Aziza Aliyu, winner of the 2011 ING Miami Marathon, trained last winter in Albuquerque.
Successes speak well for Diaspora athletes, but can they actually catch up to runners who both live and train in Ethiopia?
Misganaw, who won the Virginia Beach Yeungling Shamrock 8K in March and April's Kentucky Derby Festival Mini-Marathon, said she still has a good base from winter altitude-training and only wishes she could import her coach from Ethiopia.
Mikael Tesfaye has coached Misganaw the past two winters in the absence of her coach-brother Sofonias Ajanew, who in 2009 relocated from Addis Ababa to Luanda to train the Angolan Olympic Team's track squad.
Tesfaye, a protégé of Ajanew, is an elite runner in his own right, having finished 10th in the 2007 Lebanon Marathon and served as a pacemaker in finishing the 2009 Poznan (Poland) Marathon. Misganaw said her chief benefit from Tesfaye's coaching comes when pacing through rugged training sessions at sea level in New York City's Central Park.
Misganaw trained six weeks in the summer of 2009 with Gebre in Flagstaff, and after returning to New York City decided expert coaching and a quality pacemaker can help offset a lack of year-round altitude training.
Retta Feyissa, the coach and manager of Aliyu, said training in Arizona or New Mexico is an option but there is nothing comparable to the rigorous workouts to be had in Ethiopia.
He said, "Many of the Ethiopian runners living in the USA cannot afford to go back and forth to Ethiopia to train for specific races. Training in New Mexico is advantageous, but it is not like training in Ethiopia where you can eat organically and readily find training partners."
Bill Staab, president of West Side Runners' Club, which sponsors and advises a large number of international runners based in New York and Washington, said "ideally an Ethiopian runner in the U.S. might live in, say, New York City, go to Albuquerque in the winter and then once a year travel to Ethiopia for two months of intense training for a specific event such as the ING New York City Marathon."
However, Deriba Merga and Dire Tune, both dominant Ethiopian distance runners, do not see the gap between runners based here and there being closed in World Major races such as the Boston Marathon or the ING New York City Marathon.
"In Ethiopia the conditions are better, the altitude is greater," Merga, winner of the 2009 Boston Marathon, said after winning the Ottawa 10K last week. Tune, speaking in Amharic, agreed.
"Also, the coaching is better," added Merga. "Here, one runner has this coach and another has that coach. Runners have their own coach."
"In Ethiopia we all have the same coach, we are a team," he said, pointing around a lunch table to 2008 Boston Marathon winner Tune and 2004 Olympian Ejegayehu Dibaba.
"And the culture is different in Ethiopia," Merga added. "There is more discipline, and a focus on training."
Asked if such discipline and focus means day-after-day cycles of only running, eating and sleeping, Merga said there is free time in the runners' schedules.
"I have a car, and I take my girlfriend out to the movies or to a restaurant," he said. "We like to have a good time."
Dibaba smiled, and then put her hand over her mouth and the discussion came to an end. Speaking in Amharic, Dibaba said she has free time but "that part of my life is private."
–
Video: Post-race interview with Buzunesh Deba at the 2011 Dodge San Diego Marathon

About the Author:
Jason Jett is a New York based freelance journalist.
Cover Image:
The photograph shows the first two women to come through Petco Park during the 2011 San Diego Rock-n-Roll marathon. The location is past near the 5 mile marker. The runner in front is Buzunesh Deba, the eventual winner of the marathon. She finished the race in 2:23:31, the fastest time ever run by a woman in California. (Photo by Justin Brown).
—
Related stories by Jason Jett:
Ethiopian Stars in Canada: Three Wins, One in a Sweep, and a Runner-Up
Ethiopian Runners Shine on Both Coasts
Sign of Spring: Ethiopian Runners Renew Domination of U.S. Road Races