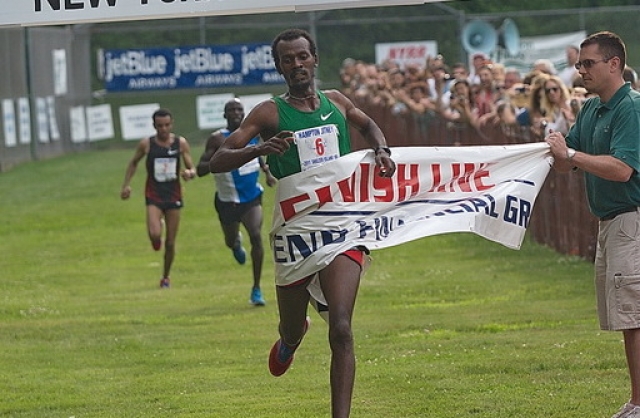 Tadias Magazine
By Jason Jett

Updated: Tuesday, June 21, 2011
New York (Tadias) – A common misconception among U.S. runners and running enthusiasts is that Ethiopians are accustomed to hot weather and enjoy competing in it.
That association doubtlessly stems from the running prominence of Kenyans, their neighbors and athletic rivals to the South. However it is not necessarily true of Ethiopian runners, who develop their talent over high-altitude training grounds in and around the temperate capital of Addis Ababa.
Over the weekend Ethiopians triumphed in a range of weather conditions, claiming victories both in 80-degree heat at the Shelter Island 10K Run on Long Island, New York, and 48-degree chill at Grandma's Marathon in Duluth, Minnesota.
Ethiopians won both the men's and women's divisions of the Saturday evening race in the Hamptons, where runners benefitted from a cloud cover but had to endure high humidity.
Kumsa Adugna, 25, the runner-up a year ago, this time won the race in 29:44. Ethiopians finishing in the top 10 were Girma Tolla, fourth, 30:04; Abiyot Endale, sixth, 30:49; Birhanu Feysa, seventh, 31:18 and Demesse Tefera, eighth, 32:50.
Tezeta Dengersa, 30, won the women's race in 34:17, with Muliye Gurma, also of Washington, DC, finishing seventh in 38:57.
Saturday morning in the 35th Grandma's Marathon in Minnesota, Yihunlish Delelecha Bekele, 29, won the female division in 2:30:38 while Teklu Deneke, 31, was the overall runner-up in a time of 2:12:17.
The runners set out on the course amid light rain and a temperature of 54 degrees that dropped to the high 40s as the race progressed. Many runners wore gloves, and their breath would fog as they exhaled.
It was Bekele's second marathon victory in five weeks; she won the Dick's Sporting Goods Pittsburgh Marathon on May 15. Finishing under 2:31 on Sunday earned her a $2,500 bonus on top of the $10,000 winner's prize money. The time also reset her personal best from the 2:35:36 run last month in Pittsburgh.
"This victory was even sweeter because the time was so much better," she told The Forum of Fargo Moorhead, MN, after the race in which runners were aided by a tailwind. "The weather was helpful."
Bekele is enjoying her best season as a professional runner, having quit her job at a 7Eleven convenience store in Washington, DC, after deciding in order to be a successful athlete she had to devote more time to running.
Aziza Aliyu finished eighth among women in 2:36:55 at the Grandma's Marathon. In the overall results, Asnake Fekadu was eighth in 2:14:20 and Tesfaye Duba finished 19th in 2:18:22
Derese Deniboba captured the Garry Bjorklund Half Marathon, a component of the marathon event in Duluth, by outsprinting fellow Ethiopian Tesfaye Alemayehu to finish in 1:02:19 and win by three seconds. Atalalech Asfaw was third in the women's field, finishing in 1:16:49.
Deniboba broke the half-marathon course record, set in 2002, by two minutes.
"The weather was perfect," said the Bronx, NY, resident. "It was not really that cold. The rain was not in your face, and there was a lot of downhill."
The difference in weather was diametric on Long Island, where there was a 5:30 p.m. start for the 32nd Shelter Island 10K.
"I was very hot and humid," said Endale, who added he pushed the pace early but was disappointed in his finish.
It did not take Endale long to begin feeling better. Sunday morning, 14 hours later, he finished runner-up to Adugna in the Portugal Day 5 Mile Run in New York City's Central Park.
Ketema Nigusse was third, Girma Tolla was fourth, Fikadu Lemma was fifth and Girma Segni was sixth at that event, which started with a pleasant 71 degrees, 63 percent humidity and fair skies.
A week earlier in Central Park, women had started the NYRR New York Mini 10K with the mercury at 69 degrees but with 96 percent humidity and cloudy skies.
That world-class competition was won by Linet Masai of Kenya in 31:40, with Ethiopians Aheza Kiros (32:09) and Belainish Gebre (32:10) finishing second and third.
Aliyu was 20th in 34:25, Hirut Mandefro was 24th in 34:35, Gurma was 31st in 37:29 and Alem Ashebir was 32nd in 37:50
–
About the Author:
Jason Jett is a New York based freelance journalist.
Cover image: Kumsa Adugna of Ethiopia posted a winning time of 29 minutes 44 seconds at the
Shelter Island 10K Run on Long Island, New York. (Garret Meade/Riverhead News)
Video: Shelter Island 10K Run (New York)

Related stories by Jason Jett:
Ethiopian Runners in the U.S. Vying for a Level Field With Athletes From Ethiopia
Ethiopian Stars in Canada: Three Wins, One in a Sweep, and a Runner-Up
Ethiopian Runners Shine on Both Coasts
Sign of Spring: Ethiopian Runners Renew Domination of U.S. Road Races