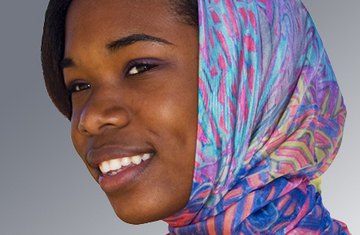 Tadias Magazine
Art Talk
By Alan Bunce
Updated: Thursday, June 23, 2011
Berkshire, UK (Tadias) – The untrained eye may not at first spot the significance of the designs of artist Rahel Takle-Peirce, whose elaborate and colorful pattern creations are used for silk scarves, shawls, sarongs and a variety of other products.
Rahel, born in Addis Ababa in 1951, tells the story of her country of origin, not through writings or poems, but through designs of abstract art.
Every one of her 250 designs has its origins in Rahel's personal reaction to the traumatic events of the 1970′s in Ethiopia, the dispersion of people from their original homeland and the re-direction of a life that should have been very different. Through the medium of design, she also relays the subsequent joy of her marriage and birth of her two sons.
Rahel's family who were owners of a coffee plantation, sent their daughter to college in Minnesota which was ended abruptly when they were forced to flee the country and lost everything in the revolution of the 1970s.
They arrived in London in 1976 and Rahel has now lived in England for over 30 years.
She married a scientist and had two sons but still finds the trauma of her past difficult to dwell over.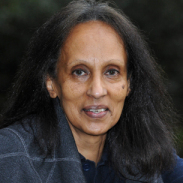 Her escape is to become a conduit for those thoughts, allowing them to pass through her and onto the canvas, translating them into vibrant designs. Take any one of the images from her portfolio of 250 at her studio Ramech-Art, and Rahel can tell you its origins and how its colours are her way of expressing her emotions, built up over 30, sometimes challenging and sometimes joyful, years.
"I can see the colours of emotions," she said. "The creative mind has to take over. My artwork has helped to heal me."
Rahel, who has worked in psychiatry in the UK, first used her art as a way to relax. Now she takes that concept a stage further, listening in strict confidence to the troubles of others to inspire an abstract painting for that person which represents their emotions and internal conflicts and that can help them learn about themselves for many months afterwards.
Her subjects are asked to talk of their thoughts of the 'now', while Rahel translates their words into a painting. She says it helps them understand their feelings better.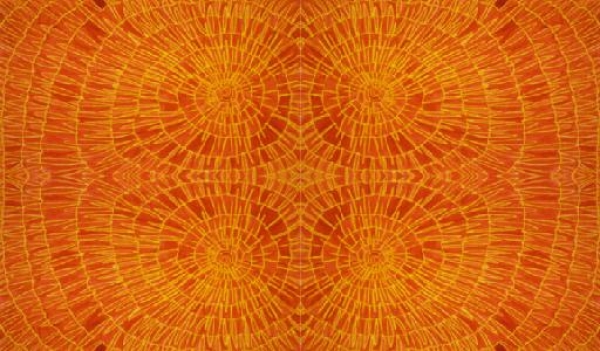 The basic colour, orange, is the colour of warmth and well being. This represents contentment. The
sun's connection through the body. In Rahel's case it was the happiness she felt to be alive with her
young children. (Photograph courtesy of Ramech-Art – Healing art design by Rahel Takle-Peirce)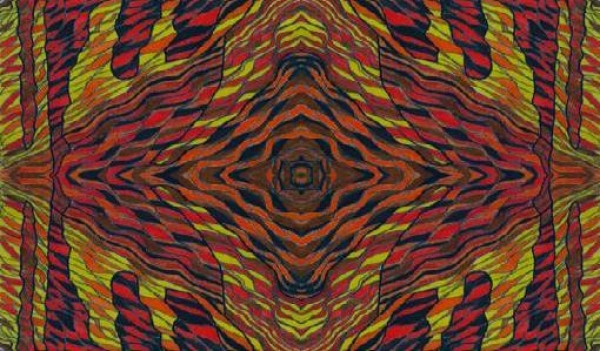 Appendage: In memory of 'tied legs', the realities of those left behind. (Design by Rahel Takle-Peirce)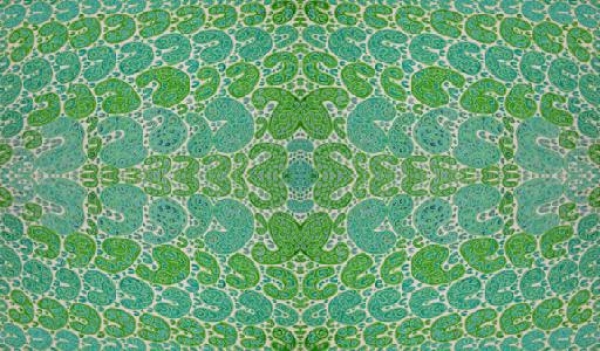 The basic colors green & blue are colors of growth and peace. In this case, it represents gratitude for
the harmony and abundance in Rahel's life and the love she experiences through her family. (RTP)
People who feel they are at a crossroads often find it therapeutic, but Rahel describes what she does as a gift rather than something she has to try hard at.
She said: "It's just like breathing to me. If I can do it for one person, I can do it for anybody."
But for her it is not a case of pondering the troubles of her subjects, simply interpreting them.
She said: "People tell you their stories and the colours I see symbolise what they say. But it does not go into my mind. My mind switches off to protect me. The designs are a bit like hieroglyphic messages. My mind will translate what they say. I don't process it in my mind. I see the person's voice and not much gets registered in my memory. After people have received their design it sticks in their mind rather than mine. When I am finished I feel better and they feel better. They can use the picture to solve problems they are dealing with."
However, this can work in reverse. People can come to her when they are happy, have an abstract design painted from their thoughts and use it as a tonic at more sombre moments.
But while her paintings all tell stories, the task for Rahel now is to get that story told to fashion buyers and hotel designers. She needs them to know that the designs she wants to sell them carry powerful tales of real human pain and joy and are not purely abstract.
Buyers at some top hotel brands have heaped praise on her work but the opportunities to meet them face to face are few and far between. The marketing obstacle she faces is to convince them she is not just another artist looking to make a living but someone with a remarkable background which took her from wealth to running for her life and then onto joy and happiness.
—
Rahel's designs can be printed on textile, paper, any other household items, or on any object. Some printed products are available for purchase directly through her website. You can learn more about Rahel Takle-Peirce and buy her work at www.ramech.com.
Video: The following video is courtesy of Ramech-Art – Rahel's designs.
Watch: