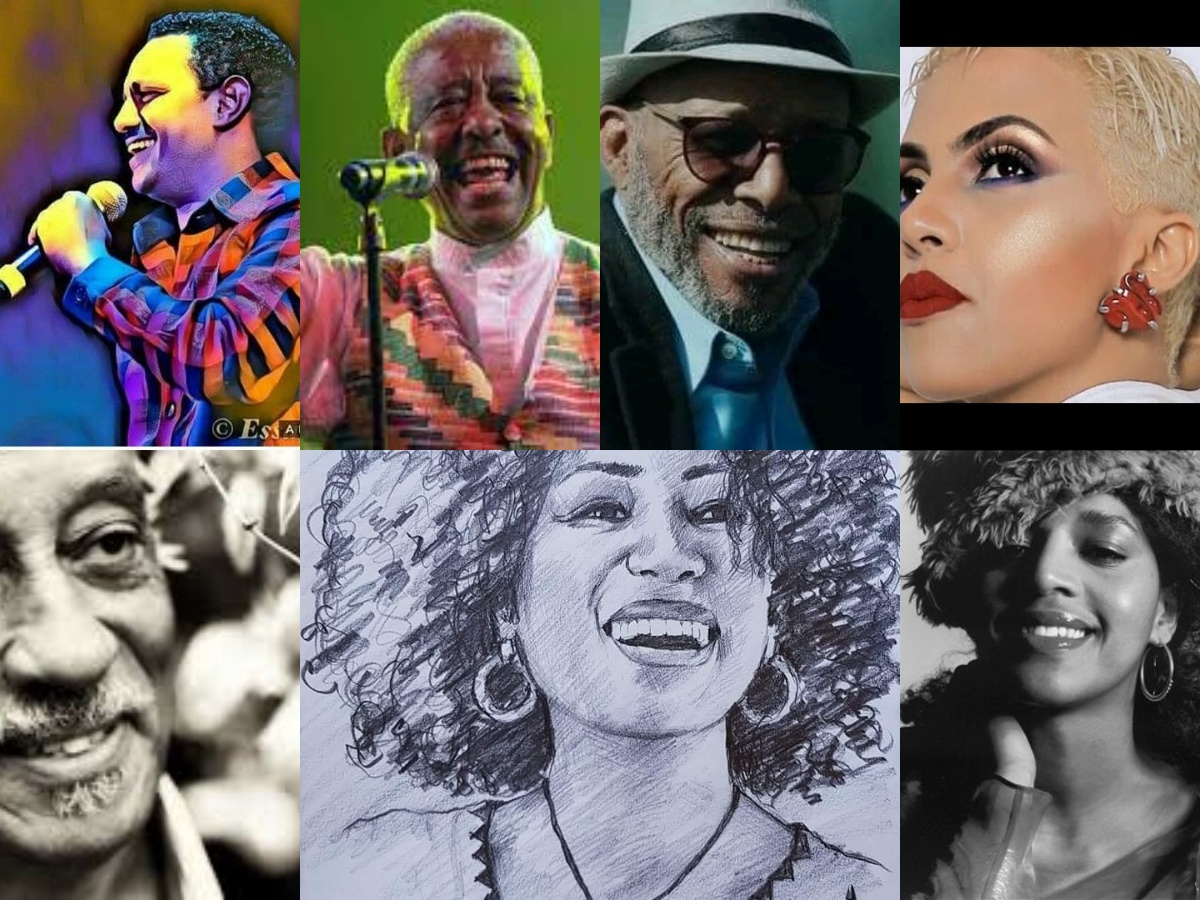 Tadias Magazine
Updated: April 3rd, 2023
New York (TADIAS) — Which Ethiopian musicians would make it to your top ten list?
According to a recent compilation by Hello Music Theory, created by music students in London, the list includes Aster Aweke, Teddy Afro, Mulatu Astatke, Gigi, Abinet Agonafir, Mahmoud Ahmed, Ali Birra, Zeritu Kebede, Betty G, and Abby Lakew.
While there are many other new and established talents that could be added to the list, Hello Music's selection is impressive and highlights the increasing popularity of Ethiopian music beyond its borders.
Aster Aweke:
Legendary musician Aster Aweke is considered one of the best Ethiopian singers of all time. She is celebrated for her compelling vocals and captivating lyrics. Although born in Gondar, Aster spent her formative years in Addis Ababa, where her father worked. She began singing at the age of 13, driven by her passion for music. In her youth, she even performed alongside prominent bands in clubs throughout the city.
In 1981, Aster Aweke made a significant move to the United States, and that proved to be a pivotal moment in her career. That same year, she released her debut album on a US label, titled "Aster." The song that brought her international acclaim, "Anteye," has sold millions of copies, firmly establishing her as a star.
Teddy Afro:
Teddy Afro (real name Tewodros Kassahun Germamo) is one of the most popular contemporary musicians among Ethiopians worldwide. The renowned Singer-songwriter is admired for his exceptional songwriting abilities and revolutionary tracks. Teddy, who grew up in Addis Ababa, released his debut album in 2001. Four years later he dropped his third CD, Yasteseryal, which gained widespread attention due to the political turmoil in Ethiopia at the time. Although  four of the songs on the album were banned, it still managed to sell millions of copies, solidifying Teddy Afro's place as a prominent figure in Ethiopian music.
Mulatu Astatke:
Of course, Mulatu Astatke, the pioneer of Ethiopian Jazz, is also on the list. The composer and arranger is indeed a trailblazing figure in Ethiopian music. He is credited with creating a unique fusion of Ethiopian traditional music and jazz, which he called "Ethio-jazz." Mulatu Astatke is known for his distinctive sound, which features complex rhythms and harmonies, and incorporates traditional Ethiopian instruments such as the krar and the washint.
Mulatu's music gained international recognition in the 1960s and 70s, when he studied at Berklee College of Music in Boston and performed with jazz greats like Duke Ellington and Dizzy Gillespie. He went on to release a series of influential albums, including "Afro-Latin Soul" and "Mulatu of Ethiopia," which helped to establish him as a leading figure in the world music scene.
Today, Mulatu continues to tour and perform around the world, and his music has influenced a new generation of Ethiopian musicians. He is widely regarded as a cultural ambassador for Ethiopia and a pioneer in the development of African jazz.
Gigi:
Ejigayehu Shibabaw, known by her stage name Gigi, is a renowned vocalist. Her early exposure to traditional Ethiopian music came from an Orthodox priest during her upbringing.in northwestern Ethiopia.
Gigi rose to fame with the release of her self-titled album "Gigi" in 2001, which featured collaborations with several American jazz musicians. The album was a fusion of traditional and contemporary music, and it received critical acclaim and commercial success, making waves in her home country.
Following the success of her debut album, Gigi went on to release two more albums in 2003 and 2006, which further solidified her position as a prominent musician in Ethiopia. Notably, her captivating vocals were featured in the movie Beyond Borders, where the famous actress Angelina Jolie played the lead role.
Mahmoud Ahmed:
Mahmoud Ahmed, an iconic singer, rose to prominence in the 1970s and gained international recognition across Africa and Europe. Mahmoud began his singing career at an early age while residing in the Mercato district of Addis Ababa.
Initially, he started as a band singer and performed with various prominent groups of that era. Later on, he embarked on a solo music career and released several successful singles that gained him recognition in Ethiopia.
However, his global recognition came after the release of his album Ere Mela Mela, which was a compilation of tracks from two of his LPs. This was a time when Ethiopia was going through political turmoil. His most significant achievement was in 2007 when he won the BBC World Music Award.
Ali Birra:
Ali Birra.is another legendary Ethiopian singer featured by Hello Music. He was born in Dire Dawa. He is one of the few notable artists who popularized funk, jazz, rock, and reggae beats in East Africa.
Ali Birra was only 13 when he joined a cultural group to promote Oromo music and culture. His first singing engagement involved him singing "Birra dha Bari'e," which gave birth to his nickname. Ali is from his first name, while Birra is from the song.
Ali Birra began his singing career in Addis Ababa after relocating from his native home. He met various nationalists, such as Ahmad Taqi, who influenced his music career. His big break came in 1971 when he released his first album, which was also the first album in Oromo music history.
Zeritu Kebede:
Zeritu Kebede represents the new era of Ethiopian music. Listening to her voice is a sure way to ignite a love for music.
Zeritu grew up in Addis Ababa and had a passion for music from an early age. She used to listen to her parents' collection, which featured renowned  musician Mahmoud Ahmed.
After completing high school, Zeritu pursued her passion for singing professionally, and she released her debut album in 2005. The album's standout track was "Yane," which quickly became a fan favorite in Ethiopia and propelled the album to great success.
Betty G:
Betty G, also known as Bruktawit Getahun, is a renowned Ethiopian singer-songwriter. She was raised in Addis Ababa and pursued higher education in Office Management, but her studies did not deter her from following her passion for music.
Initially, Betty G was not well-known in the Ethiopian music industry. However, after collaborating with prominent musicians like Nhatty Man, she started gaining recognition.
In 2015, Betty G made a name for herself with the release of her first album, Manew Fitsum. Since then, she has worked with other famous musicians such as Teddy Afro and Zeritu Kebede. Her second album, Wegegta, was released to critical acclaim and received six AFRIMA nominations.
Abby Lakew:
Abby Lakew, the final musician on this list, is an artist who sings in both English and Amharic. She was born and raised in Gondar until she relocated to the United States at the age of 13.
Her first album, produced in both English and Amharic, was released in 2005. She went on to release several other albums, including popular tracks like "Shikorina" and "Abrerew."
In 2015, Lakew's career skyrocketed with the release of her hit single, "Yene Habesha," which amassed over 54 million views on YouTube. The song catapulted her to international fame, and in 2016, she was nominated for the Best Traditional Female Artist for Africa award, solidifying her place in the music industry.
—
Join the conversation on Twitter and Facebook.