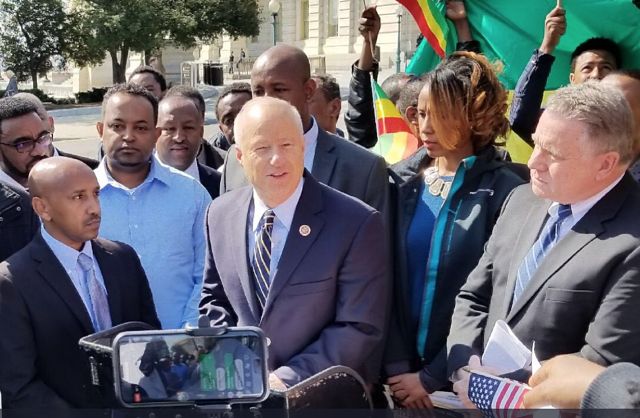 Tadias Magazine
By Tadias Staff
Updated: April 10th, 2018
New York (TADIAS) — The U.S. House of Representatives passed H. Res. 128 on Tuesday condemning Ethiopia's human rights and governance record.
The New York-based organization Human Rights Watch welcomed the approval of H. Res. 128 stating that "The non-binding resolution, combined with recent statements from the U.S. Embassy in Addis, sends a strong signal to Ethiopia's new prime minister that the U.S. expects significant reforms ahead."
However, some U.S. lawmakers had expressed objection regarding the timing of the vote given that Ethiopia has just inaugurated a new prime minister who has made a commitment to the public to implement democratic reforms.
In an opinion article published on Tuesday in The Hill newspaper the senior Senator from Oklahoma, Republican James Inhofe, wrote: 'Just one week ago, Dr. Abiy Ahmed was sworn in as Ethiopia's new prime minister on a mandate to improve these exact issues… We should give Prime Minister Abiy the opportunity to prove himself as a national leader before having the full weight of the United States House of Representatives tossed against him. A heavy-handed, strongly-worded resolution condemning his government, so soon after being sworn in, will severely curtail Abiy's ability to enact needed reforms."
The resolution calls on the U.S. government to base its future partnership with Ethiopia on the nation's "demonstrated commitment to democracy, the rule of law, and human rights." The resolution also calls on the U.S. State Department, in coordination with the Department of the Treasury, "to apply appropriate sanctions on foreign persons or entities responsible for extrajudicial killings, torture, or other gross violations of internationally recognized human rights committed against any nationals in Ethiopia as provided for in the Global Magnitsky Human Rights Accountability Act."
The Global Magnitsky Act allows the U.S. "to impose visa bans and targeted sanctions on individuals anywhere in the world responsible for committing human rights violations or acts of significant corruption."
Tuesday's vote marked the first time in over 100 years of U.S.-Ethiopia relations that U.S. lawmakers had agreed to take up such a bill regarding Ethiopia.
HRW pointed out: "Resolution 128 was passed in large part because of Ethiopian-American voters concerned with the Ethiopian government's rights record, who worked together to make themselves an important constituency. Their persistent efforts despite the efforts of the Ethiopian embassy and their Washington lobbyists led to an impressive 108 Congressional representatives from 32 states co-sponsoring this resolution. Hopefully they can build on this success and advocate for binding legislation on Ethiopia."
—
Related:
Herculean Task Awaits Abiy Ahmed on Human Rights in Ethiopia
In Ethiopia Internet Returns, Maekelawi Closed, PM Visits Jijiga on Peace Mission
Ethiopia Frees Re-Arrested Journalists (AP)
A Charismatic Young Leader Tries to Calm Ethnic Tension in Ethiopia
Ethiopia's PM Abiy Delivers Hopeful Inauguration Speech (Video)
Ethiopia Swears in New Prime Minister (AP)
Ethiopia Seeks Calm With a New Leader (The New York Times)
Join the conversation on Twitter and Facebook.