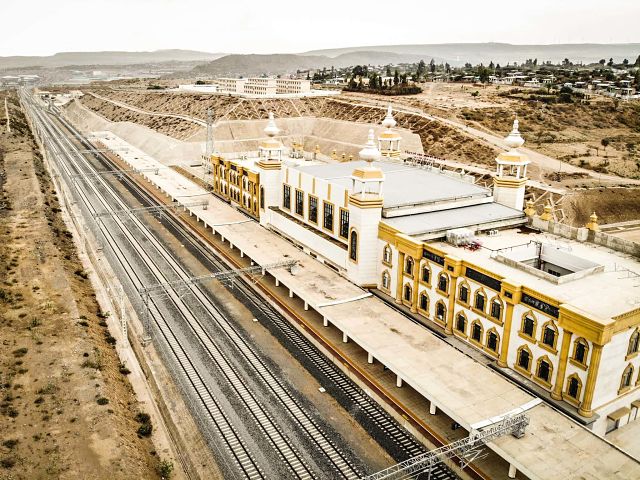 They promised us we would get jobs there," says Tadele, nodding at the grand, almost baroque edifice at the bottom of the hill. Adama's new railway station, yellow bricks golden in the afternoon sun, is still a symbol of hope for the 43-year-old who lives in a village overlooking it. But its promise is dimmer than it was.
A stint on the payroll of the Chinese firm that built Ethiopia's new railway ended sourly. After six months he was fired, for reasons he disputes. Now, like many in his village and in small towns all along the railway from the Ethiopian capital, Addis Ababa, to Djibouti, the tiny nation and synonymous Red Sea port that borders Ethiopia, he is frustrated, impatient – and unemployed.
Ethiopia's new £2.5bn, 750km (466-mile) line began commercial operations at the start of the year, making it Africa's first fully electrified cross-border railway. Built and financed by Chinese investors and contractors, and shadowing the route of an earlier French-built track, the Addis Ababa-Djibouti railway lies at the heart of Ethiopia's development aspirations. By linking the landlocked country to the sea and lowering transport costs for imports and exports, the government hopes to kickstart industrialisation and transform a poor, agricultural nation of nearly 100 million people into a middle-income one by as early as 2025.
And it is much more than that. "The railway project is a transport project," explains Dr Getachew Betru, former chief executive of the state-owned Ethiopia Railways Corporation (ERC). "But it is also a hinterland development project." The plan is for eight railways to eventually crisscross this vast, diverse land, knitting together the relatively fertile highlands with the historically neglected lowlands that are mostly inhabited by nomadic people. New stations, some of which rise incongruously from seemingly empty expanses of barren bushland, are visualised as "transport-oriented development zones": future temples of commerce boasting malls, hotels, and golf courses…
The railway embodies these contradictions. "It's the physical manifestation of the country's politics," says Biruk Terrefe, a graduate researcher at Oxford University who has studied the project.
Read the full story at theguardian.com »
—
Related:
Dr. Abiy Making Ethiopia Optimistic Again — Media Round Up
Join the conversation on Twitter and Facebook.