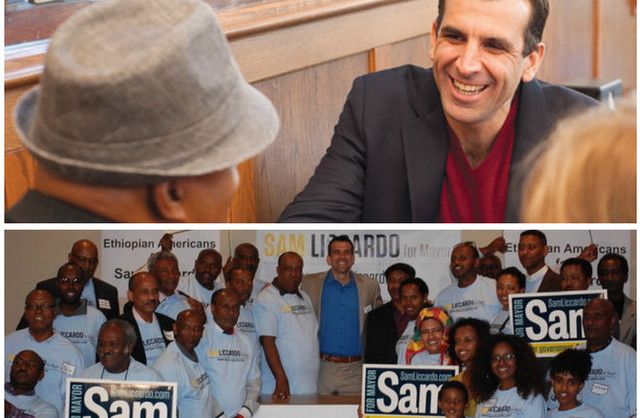 Tadias Magazine
By Tadias Staff
Published: Friday, May 23rd, 2014
San Jose, California (TADIAS) — It's pleasantly surprising to see that San Jose, California Mayoral Candidate Sam Liccardo has released an Amharic version of his campaign literature entitled "Meet Sam Liccardo" (Sam Liccardoen Yitewawequ) targeting the city's vibrant Ethiopian community. According to the U.S. Census Bureau's American Community Survey California is one of eight states where Amharic tops the list as the most commonly spoken African language. Mr. Liccardo has already received the backing of the Ethiopian American Council (EAC) which is headquartered in the city.
The document, that is also translated into Spanish and Vietnamese, highlights the candidate's biography as well as his position on various issues pertinent to the residents of San Jose — ranging from public safety to the economy, making government more responsible and responsive, better transportation, smart environmental policies, and building partnerships to improve schools.
The English translation posted on Liccardo's campaign website notes that "He represents San José's Third District on the San José City Council, one of the most diverse communities in our city. Prior to winning election to City Council, Sam served in the Santa Clara County District Attorney's Office as a prosecutor of sexual assault and child exploitation crimes and as a federal prosecutor. Sam's work in the community includes teaching government and political science at San José State University, co-founding an innovative program to mentor children, serving on the boards of several affordable housing organizations, and advocating for a successful countywide transit ballot measure in 2000 that is helping to bring BART [Bay Area Rapid Transit] to San José."
The biography states: "Sam and his wife, Jessica García-Kohl, live in downtown's Northside, which boasts San José's oldest neighborhood association and the city's most diverse group of residents. Sam and Jessica live not far from where Sam's grandfather founded and ran a neighborhood grocery store, which was a center of life and assistance for generations of long-time residents and new arrivals to San José. After graduating from Bellarmine College Prep in San José, Sam attended Georgetown University. Sam graduated magna cum laude in 1991, and two years later, he enrolled at Harvard Law School and Harvard's Kennedy School of Government. After graduating with a law degree and a master's degree in public policy, Sam returned to the Bay Area in 1996."
The primary election is set for June 3rd, 2014. Stay tuned for our interview with Sam Liccardo.
Click here to read Sam Liccardo's Amhraic message.

—
Related:
Amharic Most Commonly Spoken African Language in Eight U.S. States
Ethiopian American Council Endorses Sam Liccardo for San Jose Mayor
EAC to Endorse Tom Hucker for Montgomery County Council Seat
Isiah Leggett's Press Conference with Ethiopian Media
Join the conversation on Twitter and Facebook.