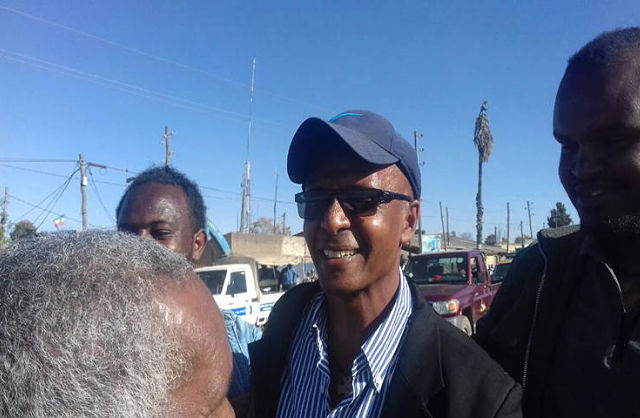 Tadias Magazine
By Tadias Staff
May 23rd, 2018
New York (TADIAS) — Six years ago this month when PEN America honored Eskinder Nega with the prestigious "Freedom to Write" award, the Ethiopian journalist was in prison serving an 18-year sentence for criticizing the government.
But on Tuesday evening Eskinder made a surprise appearance at the 2018 PEN Literary Gala in New York City to personally thank the organization for the accolade that was bestowed on him in 2012.
Eskinder was released in February after spending nearly seven years behind bars.
"We live in an age of paradox," Eskinder told the crowd that had gathered at the American Museum of Natural History. "On the one hand, we have countries, amongst them the U.S., home of the First Amendment, where freedom of expression has come to be taken for granted, and on the other, Ethiopia, my country, where the freedom to express oneself without restraint, without reprisal, is still an elusive ideal, still distant as the stars."
Eskinder added: "And in this world of two realities, I ask whether those who are free have an obligation towards those of us who are unfree. I say they do…In the prize I received from PEN America, I see the solidarity of the free to the unfree. I see the triumph of our common humanity over our differences. I see our common destiny, which is that of freedom for all humanity."
Among the eminent writers who attended the event included Ethiopian American novelist Dinaw Mengestu.
Watch: Eskinder Nega speaking at 2018 PEN America Literary Gala:
In a press release the organization said: "PEN America welcomed a broad cross-section of New York luminaries to the American Museum of Natural History Tuesday night for the at once celebratory and urgent 2018 PEN Literary Gala, held at a time when open discourse and press freedom—liberties that the organization has defended worldwide for nearly a century—are under threat in the U.S. as well as abroad. Provocative speeches from literary and activist leaders rallied the nearly 950 guests to redouble their efforts in defense of truth, facts, the role of the media, and open dialogue as foundations of democracy. In the dramatic setting of the Museum's Millstein Hall of Ocean Life, under its famed, 94-foot-long blue whale, the literary community came together in a remarkable display of solidarity to advance the mission of PEN America, led by its recently elected President, Pulitzer Prize-winning novelist Jennifer Egan."
—
Join the conversation on Twitter and Facebook.