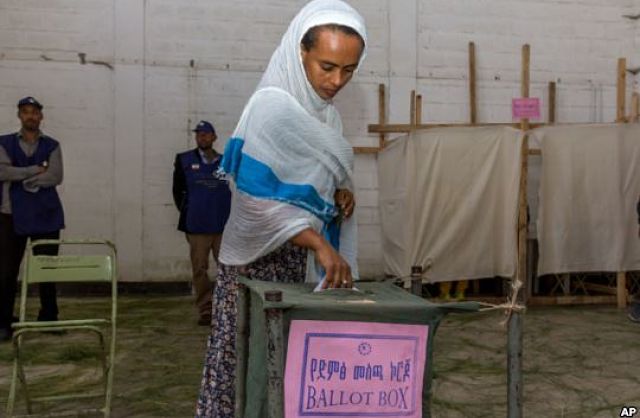 Tadias Magazine
News Update
Published: Monday, May 25th, 2015
New York (TADIAS) — There is little surprise regarding the results of Sunday's Ethiopia poll. The ruling EPRDF party, which has governed the country for nearly 25 years, is expected to claim an easy victory in another controversial election.
"There were no reports of election-related violence and African Union observers said the voting was 'orderly,' VOA reported.
"The voting lines formed well before sunrise in Addis Ababa on Sunday. People thronged to polling stations set up in tents, public halls and schools across this rapidly growing city of more than 3 million residents."
The Wall Street Journal added: "The controversy over the poll underscores the struggle Western nations have with Ethiopia—praised for its economic progress and security but criticized roundly for seizing lands from farmers, jailing journalists and silencing opposition parties."
Technically there are 58 parties participating in the national contest, but only two are considered remotely competitive: MEDREK and Blue Party. Deutsche Welle notes: "Most parties are unknown to the electorate or believed to be allied with EPRDF. Opposition leaders allege that the large number of parties served to dilute the vote and create a false perception of a competitive environment."
Below are photos from Sunday's election:

—
Related:
Ethiopia's Ruling Party Is Expected to Keep Grip on Power (NY Times)
Ethiopia Election Met With Silence From Ordinary Voters (VOA News)
Ethiopia's Election: 'Africa's Largest Exercise of Political Theatre' (The Guardian)
With Limited Independent Press, Ethiopians Left Voting in the Dark (CPJ)
Opponents Question Ethiopia's Democracy (VOA)
Imperiling the Right to Vote in Ethiopia (Robert F. Kennedy Human Rights)
Is Ethiopia About to Get More Than One Opposition MP? (BBC)
No Western Observers for Ethiopian Elections (VOA)
As Ethiopia Votes, What's 'Free and Fair' Got to Do With It? — The Washington Post
Washington Enables Authoritarianism in Ethiopia (Aljazeera America)
Ethiopian PM Faces His First Election Ever (VOA News)
Wendy Sherman Says Editorial on US-Ethiopia 'Mischaracterized My Remarks' (The Washington Post)
The United States' Irresponsible Praise of Ethiopia's Regime — The Washington Post
U.S. Wrong to Endorse Ethiopia's Elections (Freedom House)
Join the conversation on Twitter and Facebook.