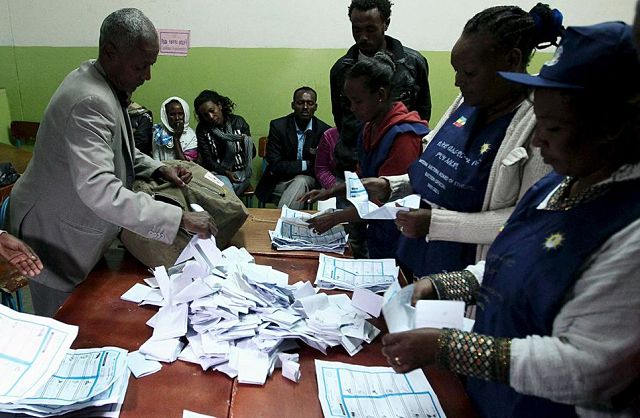 Ethiopia has started counting the votes after Sunday's elections.
Provisional results should emerge within a few days and the final result is expected to be announced in June.
The country's ruling party, the Ethiopian People's Revolutionary Democratic Front (EPRDF) is widely expected to win a landslide victory.
Watch: Ethiopia counting votes after parliamentary election (Euronews)

—
Related:
No Suspense in Ethiopia Election Results (Photos)
Ethiopia's Ruling Party Is Expected to Keep Grip on Power (NY Times)
Ethiopia Election Met With Silence From Ordinary Voters (VOA News)
Ethiopia's Election: 'Africa's Largest Exercise of Political Theatre' (The Guardian)
With Limited Independent Press, Ethiopians Left Voting in the Dark (CPJ)
Opponents Question Ethiopia's Democracy (VOA)
Imperiling the Right to Vote in Ethiopia (Robert F. Kennedy Human Rights)
Is Ethiopia About to Get More Than One Opposition MP? (BBC)
No Western Observers for Ethiopian Elections (VOA)
As Ethiopia Votes, What's 'Free and Fair' Got to Do With It? — The Washington Post
Washington Enables Authoritarianism in Ethiopia (Aljazeera America)
Ethiopian PM Faces His First Election Ever (VOA News)
Wendy Sherman Says Editorial on US-Ethiopia 'Mischaracterized My Remarks' (The Washington Post)
The United States' Irresponsible Praise of Ethiopia's Regime — The Washington Post
U.S. Wrong to Endorse Ethiopia's Elections (Freedom House)
Join the conversation on Twitter and Facebook.