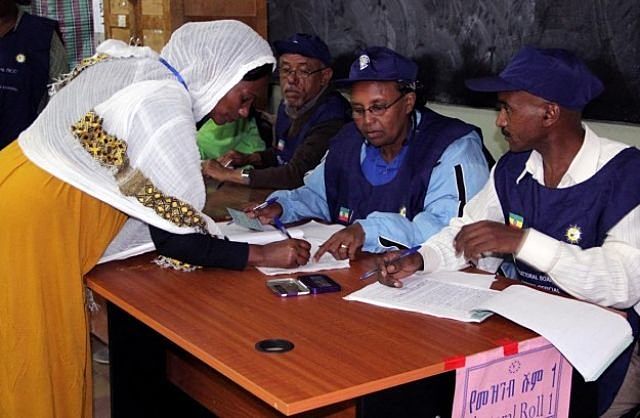 By Aaron Maasho
ADDIS ABABA – African Union observers said on Tuesday that Ethiopia's parliamentary election held on Sunday was credible except for a few irregularities, but the opposition dismissed the vote as marred by violations including ballot box theft.
Provisional results in Africa' second most populous nation are due later this week and few expect anything but a landslide for the ruling Ethiopian People's Revolutionary Democratic Front (EPRDF) coalition, in power since ousting dictator Mengistu Haile Mariam in 1991.
Prime Minister Hailemariam Desalegn, who took over after EPRDF's long-serving leader Meles Zenawi died in 2012, has pushed on with EPRDF's highly-centralised statist economic model credited with turning around the fortunes of a country once ravaged by war and famine.
But the opposition — which has one seat in the outgoing 547-member parliament — accuses the government of crushing dissent, limiting free speech, and muzzling the press. The EPRDF denies this, saying the political space is open for all.
"The African Union Election Observation Mission (AUEOM) concludes that the parliamentary elections were calm, peaceful, and credible as it provided an opportunity for the Ethiopian people to express their choices at the polls," former Namibian President Hifikepunye Pohamba, the head of the AU mission, said.
Pohamba said 59 members from 23 African countries visited 356 polling stations. Ethiopia did not invite Western observers to this election. About 37 million out of Ethiopia's 96 million people registered to vote.
The observers said no major incidents occurred and that they could vouch for the secrecy of the vote in 95 percent of the polling stations it observed.

—
Related:
AU Observers Avoid Words 'Free & Fair' In Ethiopia Election Assessment (VOA)
No Suspense in Ethiopia Election Results (Photos)
Ethiopia's Ruling Party Is Expected to Keep Grip on Power (NY Times)
Ethiopia Election Met With Silence From Ordinary Voters (VOA News)
Ethiopia's Election: 'Africa's Largest Exercise of Political Theatre' (The Guardian)
With Limited Independent Press, Ethiopians Left Voting in the Dark (CPJ)
Opponents Question Ethiopia's Democracy (VOA)
Imperiling the Right to Vote in Ethiopia (Robert F. Kennedy Human Rights)
Is Ethiopia About to Get More Than One Opposition MP? (BBC)
No Western Observers for Ethiopian Elections (VOA)
As Ethiopia Votes, What's 'Free and Fair' Got to Do With It? — The Washington Post
Washington Enables Authoritarianism in Ethiopia (Aljazeera America)
Ethiopian PM Faces His First Election Ever (VOA News)
Wendy Sherman Says Editorial on US-Ethiopia 'Mischaracterized My Remarks' (The Washington Post)
The United States' Irresponsible Praise of Ethiopia's Regime — The Washington Post
U.S. Wrong to Endorse Ethiopia's Elections (Freedom House)
Join the conversation on Twitter and Facebook.