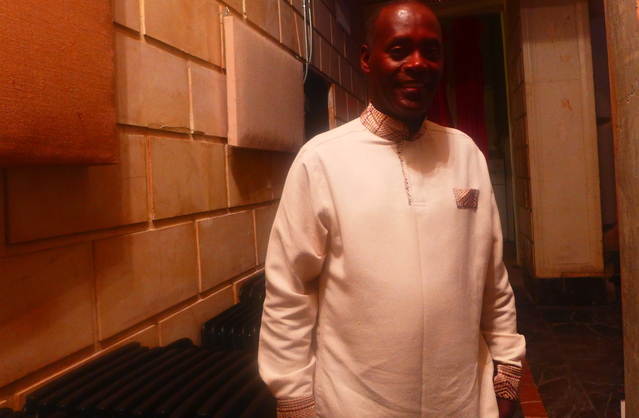 Tadias Magazine
Events News
Updated: Monday, June 10th, 2013
New York (TADIAS) – Classical pianist and composer Girma Yifrashewa performed live to a full house at Issue Project Room in Brooklyn on Saturday, June 8th. The event was Girma's first solo appearance in the United States since he made his U.S debut four years ago when he was invited to participate in the International Symposium and Festival "Africa meets North America," which took place in October of 2009 at the University of California, Los Angeles (UCLA). As part of his current tour, the talented pianist will return to the West Coast next month for a performance in Seattle, Washington on July 26th.
In New York, Girma delighted his audience not only with his expert renditions of classics by Chopin, Schumann, Debussy, and Gershwin, but also with his own arrangements based on traditional Ethiopian melodies including "The Shepherd with the Flute" — a short reflective and romantic piece originally composed by the late Professor Ahenafi Kebede.
The second part of Girma's show was entirely dedicated to his own compositions including Ambassel, Chewata, Sememen, and his favorite Elilta. During his introduction of Elilta, as he concluded the evening, Girma asked the audience what elilta was, and Ethiopian members of the audience vocalized the joyful custom. The concert ended on a celebratory note as the pianist received a standing ovation.
Below is a slideshow of photos from the concert.

—
Related:
Girma Yifrashewa: From Chopin to Ethiopia (The New York Times)
If You Go:
Girma Yifrashewa in Seattle
July 26, 2013
Good Shepherd Center Chapel
4649 Sunnyside Ave. N, 4th floor
Seattle, WA
Learn more at: waywardmusic.blogspot.com
Ebs tv Instrumental Music- Girma Yifrashewa- ILILTA from EBS TV on Vimeo.
—
Join the conversation on Twitter and Facebook.