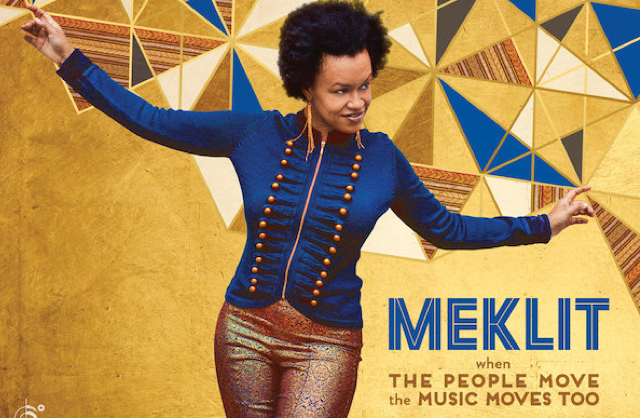 Tadias Magazine
By Tadias Staff
June 19th, 2017
New York (TADIAS) — Ethiopian American singer and composer Meklit Hadero will be performing in Washington DC on June 20th and in New York City on June 21st as Six Degrees Records releases her latest album entitled When the People Move, the Music Moves Too. This past May we shared her video single "I Want to Sing For Them All" as featured on Vibe Magazine.
Meklit's new album was composed after a chance meeting in Addis Ababa with Mulatu Astatke, the legendary Ethio-Jazz musician, composer and vibraphonist. "He was very pointed with me, saying several times 'You keep innovating!'" she recalls. "He took me to task and.. it took me a while to digest that. It's a big thing to have someone like that say that to you. I sat with it for a couple of years."
Having first launched her music career in the mid-2000s, Meklit has since released five records, been named a TED Global Fellow and was an artist-in-residence at De Young Museum, Red Poppy Art House and New York University. She is the Co-Founder of the popular international group, Nile Project, which brings together musicians from 11 countries in the Nile Basin to tour and perform. She is also Founder of the Arba Minch Collective composed of Diaspora-based Ethiopian artists looking to collaborate with colleagues residing in their native homeland. Meklit performed at the concert inaugurating the UN Campaign for Gender Equality in Africa, and currently sits on the Board of the San Francisco Chapter of The Recording Academy, the organization that puts together the annual Grammy awards ceremony.
Meklit's upcoming album, produced by Grammy-winner Dan Wilson, is also accompanied by the Ethiopian-born pianist Kibrom Birhane who is based in Los Angeles.
"I am an immigrant, so I guess you could say this is immigrant music," Meklit says, speaking of her new work. "But I would not be who I am without Jazz, and Blues and Hip-Hop and Soul. This music is Ethio-American, just like me. I find joy in the bigness of that space."
—
If You Go:
Album Release Concert (When the People Move, the Music Moves Too)
June 20th, 2017
Washington DC
Tropicalia (click here for tickets)
2001 14th St NW, Washington, DC 20009
June 21st, 2017
New York City
Nublu (click here for tickets)
62 Avenue C, New York, NY 10009
Watch: Meklit Pays Homage To Ethio-Jazz
—
Join the conversation on Twitter and Facebook.