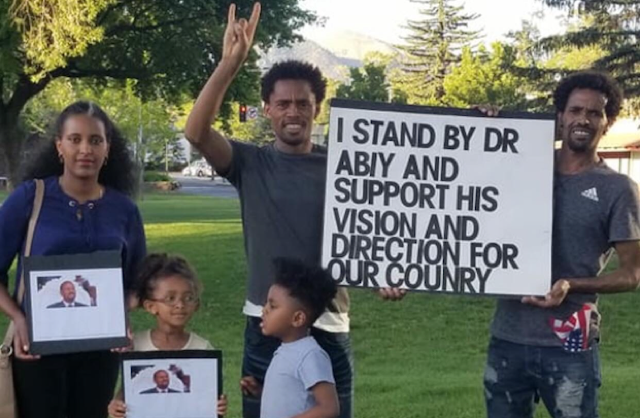 Tadias Magazine
By Tadias Staff
Published: Friday, June 22, 2018
New York (TADIAS) — At the 2016 Olympics in Brazil Ethiopian marathoner, Feyisa Lilesa, was thrust into the spotlight as he crossed the finish line in second place while holding his arms over his head in a political gesture of solidarity with non-violent protestors back home. He boldly repeated the protest on the podium as well as during a subsequent press conference. The gesture forced him to seek refuge unable to return home without fear of repercussions.

(Photo credit: Eshetu Homa Keno)
Now settled in the United States in Arizona with his family, Feyisa is showing his strong support of Ethiopia's new prime minister, Dr. Abiy Ahmed, who has taken radical steps to enhance the nation's political stability, free political prisoners, encourage telecom privatization and free press, and address issues of government corruption.
In a recently posted photo via his Facebook page, Feyisa states "We Support Our Prime Minister Dr. Abiy Ahmed!" as he stands holding up signs with his family. Back in April Quartz Media had shared the Olympian's thoughts on the change in leadership, and like many Ethiopians at home and abroad Feyisa responded that he's following Abiy's actions adding that he is "hopeful that he will change things," and "at least some things will be better than the past. However, this won't happen overnight. I think it is better to give him some time and see what he does."
On Monday, June 25th supporters of Dr. Abiy Ahmed in the United States have organized a rally in Washington D.C. in front of the State Department.
—-
Related:
Ethiopia on the Right Track to a More Democratic Society (TADIAS Editorial)
Join the conversation on Twitter and Facebook.