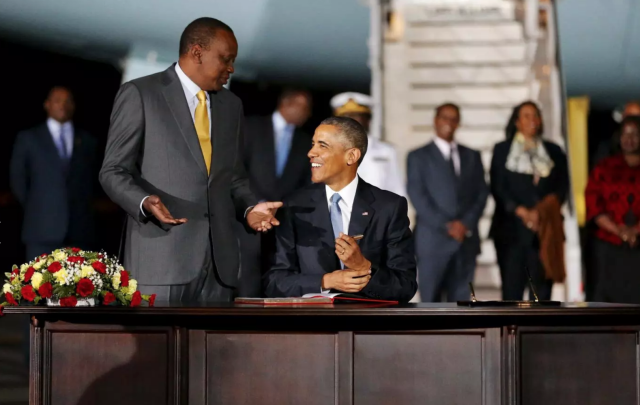 Tadias Magazine
By Tadias Staff
Published: Tuesday, June 26th, 2018
New York (TADIAS) — Former U.S. President Barack Obama will return to his father's homeland of Kenya next month on his way to South Africa, where he is scheduled to deliver the keynote speech at Nelson Mandela's 100th birthday anniversary.
"Obama will visit Kenya from July 15-16, where he'll attend the inauguration of a youth sports center founded by his sister, Auma Obama," CNN reports. "The vocational center in Siaya County aims to provide educational and economic opportunities to help young people serve their communities, and shares a similar mission as President Obama's foundation."
"Given that his own mission under the Obama Foundation is to inspire and empower people to change the world, his attendance at this event at our ancestral home, where our father was laid to rest, is of great significance to me," Auma Obama said.
In Kenya, Obama will also meet with President Uhuru Kenyatta and opposition leader Raila Odinga.
Since leaving office America's ex-President has purposefully kept himself out of the limelight and away from the tumultuous political environment in the United States, which seems to have been further exasperated in recent days due to the fallout from his successor's tragic family separation policy.
In a much talked about article published this week titled Where Is Barack Obama?, New York Magazine notes that "the most popular American…has, for now, virtually disappeared from public life." Former White House Press Secretary Josh Earnest says: "He's recognizing that the party and our country will benefit from other voices having an opportunity to weigh in, and that opportunity would be all but completely obscured if he were regularly sharing his opinion on these issues."
Obama, who is also a talented writer, has been working on his upcoming memoir. Per New York Magazine: "No one close to Obama expects the finished product to look anything like other White House memoirs, given his history as a writer. "He is engaged in reflection, and he also cares about writing," says Tim Kaine, the Virginia senator and an Obama friend. "I would be surprised if it's just a standard chronological accounting of his last eight years."
In addition Barack & Michelle Obama have partnered with Netflix to produce media content including films and documentary series for the online streaming service giving the former first couple a powerful and unprecedented platform to shape their post-White House legacy. "Under the name Higher Ground Productions, the Obamas will have hands-on involvement in producing content and will appear personally in some of the shows while curating others," a person familiar with the deal told Reuters last month."
—
Join the conversation on Twitter and Facebook.