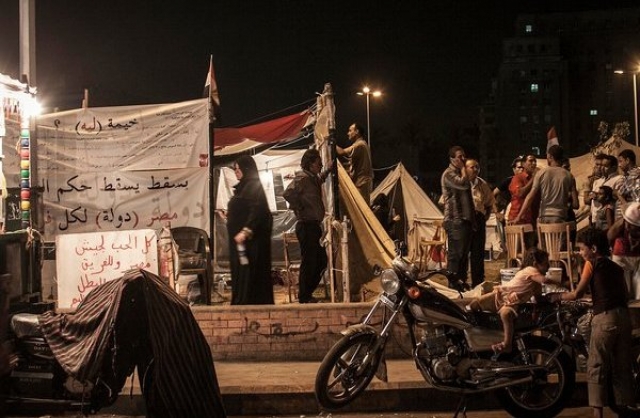 VOA News
Last updated on: July 07, 2013
An African Union team of eminent persons plans to meet this week with Egypt's interim leadership, following the ouster of the democratically elected President Mohammed Morsi.
"Egypt is an important member of the African Union and we would not in any way allow Egypt to degenerate into chaos. We would do all we could to ensure that Egypt remains stable and prosperous, God willing," said Ambassador Aisha Laraba Abdullahi, the African Union's Political Affairs Commissioner.
Abdullahi also called for peace and reconciliation in Egypt following violent clashes between supporters and opponents of Mr. Morsi's ouster.
"We note with deep concern the violence that happened on Friday and the early morning of Saturday," continued Abdullahi, "We hope that the human-rights violation, the use of firearm to control protesters should be strongly discouraged. We frown upon that and we call for peace for reconciliation for tolerance, so that Egypt could bounce back."
Abdullahi's comments came after newly installed President Adly Mansour appeared to back away from an announcement that former Director General of the International Atomic Energy Agency, Mohammed ElBaradei would be made prime minister. The Muslim Brotherhood says it rejects ElBaradei's appointment and vowed to protest until Mr. Morsi is returned to power.
The African Union suspended Egypt's membership Friday following the group's Peace and Security Council's meeting.
"The African Union will not tolerate unconstitutional [overthrow] of government of any form from any of its member states and this will remain our principle," said Abdullahi.
"We call on the new authorities in Egypt to promote dialogue to reconcile to ensure that the constitution that would be drafted is [an] all inclusive one that would embrace everybody and promote peace, stability and hopefully development for Egypt, to ensure that as soon as they draw up a chronogram that they comply with the chronogram to ensure that this military action is not repeated."
Abdullahi says the African Union will work closely with the North African country to restore constitutional rule.
"The AU is sending a team of African eminent personalities to discuss with the interim authorities so that they quickly set up a chronogram that would make them to go ahead and organize elections, which would hopefully, allow the country to also draw up a new constitution, go for elections and once that is done, we would be happy to re-admit Egypt back into the union," said Abdullahi.
The African Union has also called for Egypt's interim leaders to ensure Morsi's safety after the military placed the former leader under house arrest after he was ousted.
"We continue to call for peace, for calm for respect of human rights for tolerance and understanding among the Egyptians," said Abdullahi.
Listen to VOA's interview with AU's Aisha Laraba Abdullahi

—
Video: Egyptians Protest Amid Prime Minister Dispute (VOA News)
VOA News
By Edward Yeranian
July 07, 2013
CAIRO — Rival demonstrations are taking place in the Egyptian capital Cairo and elsewhere across the country Sunday, as supporters and opponents of ousted President Mohamed Morsi take to the streets to defend their political positions.
Supporters of ousted Egyptian President Mohamed Morsi continue their sit-in protest in front of Cairo's Rouba Adawiya mosque Sunday, amid calls for further demonstrations across the capital. Opponents of Morsi also plan to hold a rival rally in Cairo's Tahrir Square.
Amid protests and counter-protests, Egypt's interim President Adly Mansour continues to consult rival political leaders about forming a new government. News that opposition leader Mohamed ElBaradei had been selected to head that government late Saturday was refuted by presidential spokesman Ahmed al-Muslimany.
He says that consultations have begun, but that the name of a new prime minister has not yet been agreed upon. The odds, he argues, favor Mohamed ElBaradei, but no official nod has been given since political talks are ongoing.
Islamist supporters of the Muslim Brotherhood and the Salafi Nour Party are both known to oppose ElBaradei's nomination. Muslim Brotherhood leaders insist they won't participate in any interim political process, either, unless former President Morsi is returned to office.
One middle-aged man in the center of Cairo insisted that he does not support either the Muslim Brotherhood or the opposition, but that everyone needs to cooperate to avoid trouble.
He says that (former) President Morsi won the presidential election [last year] by 51 percent and his rival won 48 percent, making it clear that both sides have almost equal support. For this reason, he argues, it is obvious that everyone must cooperate in order for the country to function.
Militants blew up the main gas pipeline in the northern Sinai early Sunday, causing flames to light the night sky. The pipeline, which provides gas for nearby Jordan, has been attacked frequently since the overthrow of veteran strongman Hosni Mubarak in February of 2011.
Egyptian security forces also came under attack in the northern Sinai town of Sheikh Zweyid. An army statement indicated that all Egyptians have the "right to protest," but urged everyone to behave responsibly.
In the Kazakh capital Astana, Russian President Vladimir Putin warned that Egypt was "in danger of sliding into a civil war," insisting that "efforts must be made to prevent that from happening."
—
Related:
Egypt crisis in pictures (BBC News)
Cracks Emerge as Egyptians Seek Premier (The New York Times)
US Lawmakers React to Crisis in Egypt (VOA News)
—
Join the conversation on Twitter and Facebook