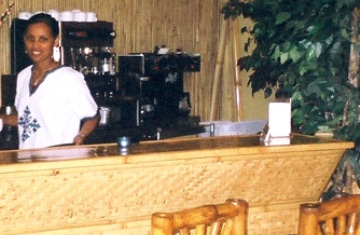 By Rebekah N. Kebede
Right across from the Taco Bell on Telegraph Avenue, on the border of Berkeley and Oakland, California, sits an inconspicuous building that looks like a local greasy-spoon diner. Do not let the appearance of Addis Ethiopian Restaurant fool you. This modest front does nothing to betray the culinary treasures within.
Foremost among aforementioned treasures at Addis Ethiopian Restaurant is the zilzil tibs, a dish consisting of strips of seasoned grilled beef. During several visits to the restaurant over the last six months, the zilzil tibs have been consistently fresh, well-seasoned and grilled "just so": tender and juicy while still retaining the smoky flavor of the grill, yet never over-grilled or too dry. In a word— perfect. The zilzil tibs stands on its own, without condiments. Even huge awaze fans might find themselves forgoing the spicy sauce for fear of corrupting the superior flavor— To those nostalgic readers who are familiar with restaurants in Addis Ababa, the zilzil tibs at Addis Restaurant could give Samet Restaurant (in Old Airport) a run for its money—and that's a compliment one shouldn't take lightly.
That is not to say the rest of the dishes do not deserve mention. Indeed, they do. Among the most notable is the kitfo, which is just as authentic as any you might find in an Addis Ababa kitfo bet. Addis Restaurant also serves up the usual Ethiopian fare: there are ample vegetarian and meat dishes to choose from as well as some new variations like Doro tibs, increasingly popular in many Ethiopian restaurants across the country.
Should you need a beverage to accompany your meal, Addis serves the traditional tej honey wine as well as a variety of local and imported beers and wines. On a recent visit, one customer at a nearby table expressed unbridled enthusiasm for what he said was one of the newest beers on the drinks list, Bedele Pilsner Special. The Pilsner Special, a traditional Czech Pils (the Bedele factory was buil twith the assistance of the former Czechoslovakia), is a crisp brew that makes a good companion to most dishes, especially the richer and heavier meat dishes.
In addition to praise for stellar food, Addis gets points in the ambiance department. About a year ago, Addis' interior décor sadly matched its unassuming exterior; it was not unpleasant, but its stark tile floors and fluorescent lighting gave the place a chilly feel. Since then, however, the restaurant has changed ownership and the interior has undergone a complete overhaul. Addis Ethiopian Restaurant now boasts a very cozy atmosphere with an earthy but stylish feel. The fluorescent lights are long gone, traded for smaller lamps providing warm, diffused light dispersed around the dining area. The dining space has also been divided by sleek bamboo screens, conveniently creating a private space for each table—a necessity now that the place seems to be packed every day of the week. If you have a medium to large sized party, you might also consider the bamboo mini-tukul with a traditional mesob in the far corner of the restaurant.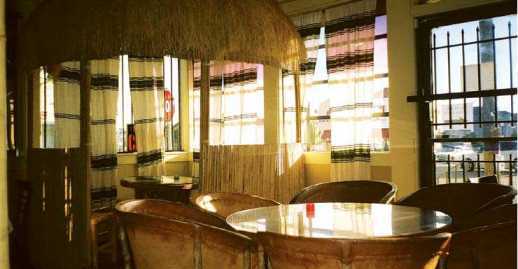 If there are any downsides to visiting Addis, it might be that the number of dedicated Addis customers outstrips the number of spaces in its parking lot. On a recent weekday night, customers appeared to have adopted a system of double- parking their cars as the place filled up in the early evening. So next time you're in the neighborhood, skip Taco Bell and instead head across the street to Addis to place your order, "Yo quiero zilzil tibs!"
———-
About the Author:
Rebekah Kebede is a freelance writer and photographer in New York City. Her work has appeared in the New Jersey Home News Tribune, India West, and Tadias Magazine. She is currently pursuing a master's degree in journalism at Columbia University.