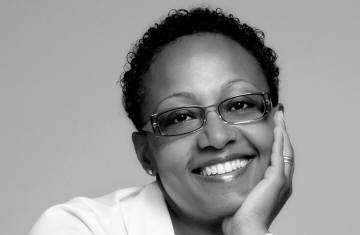 In a Relationship Sex is the Key
By Dr. Tseday Aberra
Nature has decided that men are more susceptible to sex than women. Women are blessed with taming their sexual appetites far efficiently than men. So when you ask women why they marry, they tell you it is for the affection and companionship. Men also tell you for companionship, but it is primarily for the availability of sex. Affection and companionship in a marriage includes sex for men. But I'm not so sure it is so for women.
People say marriage is difficult. Wrong. I say a husband and a wife make it difficult. Marriage is difficult for anyone who fails to understand what it means to be in one, and what it takes to make it fulfilling. It takes commitment and work, indeed, but it is certainly not difficult. At least it does not have to be.
Marriage requires understanding. It is an agreement based on an understanding between a husband and a wife. It is an entity that is created in order to give them meaning that otherwise does not exist. This meaning is completely subjective since its foundation is based on the unique agreement created by the two in the marriage. It requires both to participate and contribute willingly and completely. Otherwise, it would not exist in fulfilling form.
No one can definitely tell you what marriage is and what it is suppose to mean other than what I have just told you. You make of it what you want. The difficulty that comes with this freedom is knowing the limitations of what you can make of it. You cannot make it yours nor can he make it his. It belongs to you both. Once it is created, it has its own life and its purpose is to give you meaning. To create it, however, both of you are required to provide certain instruments that will keep it alive and fulfilling. These instruments are not negotiable. Among all of them, the most important is sex.
When a husband and wife decide to settle down, after having picked a mate of their choosing, what they do to keep each other depends on how committed they are to fulfilling the agreement. Their commitment in contributing the necessary instruments in giving life to the marriage and maintaining its viability is most crucial.
Times have changed. The 21st century has leveled the playing field so that the only thing a husband and a wife require from each other is companionship. The one element that will not be equalized, however, is a husband's need to go to his wife for sex. Therefore, a husband comes into a marriage, having lost all his bargaining power, with a promise of one thing and one thing only: sexual companionship. A wife who is committed to her marriage ought to know the position of her husband. She ought to know his predicament. Being in a powerful position, a wife ought to know her husband is at her complete mercy. She also ought to know how she uses her power determines the vitality of the marriage.
If by some chance, a wife does not care to her husband's needs enough and often, he will have a hard time acknowledging whether there is a relationship tailored to meet his benefits. Now remember, a husband comes into a marriage willingly, and should also be willing to give all that he has. He has volunteered to commit and participate. And in return, he expects sex. When I say all that the husband has to give, it encompasses all the instruments he contributes to create and maintain the marriage. A husband will not hold back whatever is needed to make his marriage a place of sanctity.
A wife comes into this marriage expecting affection and companionship. However, she has to come with a special instrument in particular. Yes, there are other instruments that she has to bring also, but…on a serious note…, she has to bring one thing…the IT…and the willingness to use IT and make IT available. Without going into detail what a husband brings as instruments to create and maintain a marriage because they are not as important as what the wife brings specifically, the instrument that a wife brings is by far the most essential piece of the marriage. The IT is sacred and essential. If you toy with IT, you will lose the marriage. If you hold on to IT, you will lose the marriage. If you ration IT, you will lose the marriage. Guaranteed!
Having already lost his bargaining power, a husband comes into the marriage knowing and hating to be in a position where he has to rely completely on his wife for sex. When she rations sex, a husband learns that his dear wife is conniving, selfish, mean, but most of all, untrustworthy. He realizes that his wife holds all the cards of intimacy and that she can always put him back in his place. Not as a man but as a husband, he sadly realizes that he cannot rely on her. His trust is broken.
Very often a wife forgets that her vindictive behavior leaves a scar on her husband that she cannot remedy at a later time. After a fight, there is a whole lot of "forgiving" that takes place by both, but very little of "forgetting" by the husband especially. What your husband would not forget is that one of the most crucial instruments that is required to create and maintain a fulfilling marriage is actually negotiable, and that it depends on the whimsy of a wife that he just found out to be conniving, selfish, and mean.
Let me tell you, dear wife, once such a doubt creeps into your husband, not only would you lose him, but definitely you would lose your marriage. Take it from me, there is no therapy in this world that will bring back the marriage.
Next time, before you decide to hold on to sex because you had a point to make, think a moment and realize what is REALLY at stake.
—————-
About the Author:
Ethiopian-born, Dr. Tseday Aberra, is a Clinical and Forensic Psychologist. She has a private practice in the greater Los Angeles area and also works for the California Department of Corrections. She holds M.S. in Marriage, Family, Child Counseling and A Psy.D. in Clinical Psychology. She is recognized as an expert by California Superior Courts and gives seminars nationwide on marriage, relationships, and friendship. She has made a guest appearance on Court TV.
If you would like to advertise with us, please send us an e-mail: info@tadias.com
Related Links and Tadias Stories:
Happy Couples: What's Their Secret?