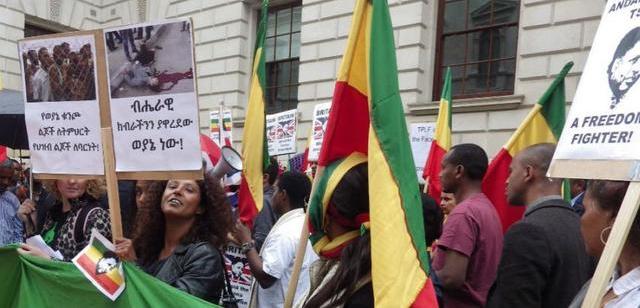 By Martin plaut
Tall metal metal gates guard a courtyard just off a busy street north of London's financial district. The area, once down and out, is today much sought after, but scattered between the newly refurbished warehouses and loft apartments are some blocks of municipal housing populated largely by the city's African immigrant communities. Inside their yard, small boys are kicking a soccer ball. "Yemi's my mum," one of the boys says, leading the way up the building's aging concrete stairwell to the fourth-floor flat.
A small, slim woman, Yemi smiles easily. On her shelves are portraits of her parents, who left Ethiopia for the United States in 1982 to make a new life for their family. A black-and-white photograph shows her father as a young man in Ethiopian uniform. "He was in the army," Yemi explains. "But he left for civilian life in 1972 before the Derg took power."
The Derg, or "Coordinating Committee of the Armed Forces, Police, and Territorial Army," comprised a group of low-ranking officers who deposed Emperor Haile Selassie. The emperor had ruled Ethiopia for four decades until his failure to respond to a devastating famine in 1974 led to his overthrow and subsequent murder. Mengistu Haile Mariam, an obscure army major, led the coup and went on to rule Ethiopia with an iron fist, engaging in a ruthless campaign of repression that became known as the Red Terror. Executions were rife and tens of thousands of people were imprisoned until the Derg was ousted by the country's current rulers in 1991.
Yemi was lucky that her father left the military when he did. "Yes," she agrees, "they killed so many of their own."
The violent revolutions that have marked Ethiopia's recent history still reverberate today. The country has enjoyed substantial donor support ever since the devastating 1984-1985 famine and has been an important ally in the fight against Islamic extremism in the Horn of Africa. But the government, while nominally democratic, still tolerates little opposition — a reality Yemi knows all too well.
Yemi, whose full name is Yemsrach Hailemariam, is today caring for her two small boys and their sister on her own. On July 9, her partner, Andargachew Tsige, a leader of Ethiopia's largest exiled opposition movement, was arrested in an airport transit lounge in Yemen. He had been on his way from the United Arab Emirates to Eritrea when he was picked up by Yemeni security, who then bundled him onto a plane bound for Ethiopia.
Read more at foreignpolicy.com »
—
Related:
BBC News: PM Hailemariam Defends Andargachew Tsege Arrest (BBC News)
Andargachew Tsige: Letter From UK's Foreign Office to Ethiopian American Council (TADIAS)
Ginbot 7′s Andargachew Tsege: Ethiopia confirms arrest (BBC News)
Snatched: Justice and Politics in Ethiopia (The Economist)
Fears for Safety of Returned Opposition Leader (HRW)
Ethiopia Urged to Protect Opposition Leader (AP via The Washington Post)
Yemen Extradites Exiled Ethiopian Opposition Chief, British Citizen, to Ethiopia (AFP)
Ethiopia Ginbot 7 leader facing death penalty 'extradited from Yemen' (BBC News)
UK Stands Accused Over Extradition of Ethiopian Opposition Leader (The Guardian)
Ethiopia Asks Yemen to Extradite Activist (Al Jazeera)
Leading Ethiopian Opposition Figure Detained in Yemen (Yemen Times)
Join the conversation on Twitter and Facebook.