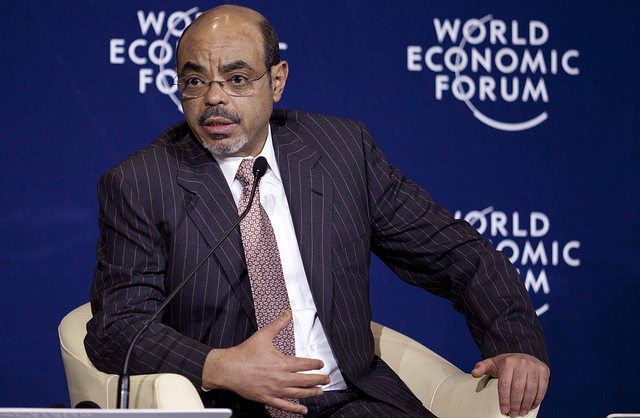 By: VOA
July 27, 2012
Ethiopia does not have a firm leadership succession plan if Prime Minister Meles Zenawi is no longer able to head the government, according to a former defense minister.
Seeye Abraha, who worked with Meles on the ruling party's executive committee but who is now a member of the political opposition, said Tuesday that uncertainty and anxiety is growing over the nation's leadership during the prime minister's so-far unexplained absence. He blamed it on the country's one-party electoral system and Meles' one-man-rule style of governing over the past 12 years.
"They don't have a system" [of leadership succession], Seeye said. "This is a crisis situation and the dust has not settled."
He said leaders of the ruling Tigrai People's Liberation Front (TPLF) and larger Ethiopian People's Revolutionary Democratic Front (EPRDF) parties had discussed a succession plan, but postponed any decisions until prior to a scheduled 2015 national election.
Meles has not been seen in public for about three weeks, even missing the African Union conference in Addis Ababa that was attended by 29 other heads of state or government. Some reports in the international press have speculated he is suffering from a serious illness and has been receiving treatment since June 26 in a Brussels hospital.
Information Minister Bereket Simon told reporters in Addis Ababa last week that a doctor has prescribed sick leave for the prime minister. Bereket assured the public that Meles is in "good and stable condition" and will return to work when he has recuperated.
"I have serious political differences with the prime minister and his party,"
Bereket, however, would not identify the illness or say where the prime minister was receiving treatment.
Reliable news about the prime minister's health has been hard to come by in Ethiopia. According to the Committee to Protect Journalists, the most recent edition of the independent weekly newspaper, Feteh, contained a report on the prime minister's health, but that issue of the publication was confiscated by the government printing house.
Ethiopia 'Approaching The End Of The One-Party System'
Seeye Abraha said he does not know where the prime minister is or the nature of his illness.
"I have serious political differences with the prime minister and his party," Seeye said of Meles and the TPLF. But he said that now is the time for Ethiopia's political and military leaders to work with the nation to plot a peaceful way forward.
"We are approaching the end of the one-party system," Seeye said.
Seeye was commander of the TPLF's rebel forces and a member of the small leadership team of TPLF fighters who ousted Mengistu Haile Mariam's Derg leadership in 1991. They then created the Federal Democratic Republic of Ethiopia. Seeye was defense minister for five years and later led planning strategy for Ethiopia's border war with neighboring Eritrea.
The former defense minister said he and Meles finally parted ways over continuation of the costly two-year war with Eritrea. Meles expelled Seeye and three others from the TPLF executive committee.
Then, Seeye was thrown in jail for six years on corruption charges he says were bogus. When he got out of prison, Seeye joined the opposition Unity for Democracy and Justice Party along with a former president, Negaso Gidada.
He left Ethiopia for the United States in 2011. Seeye, 59, now lives in Boston where he recently completed graduate studies in public administration at Harvard University.
If Meles Cannot Lead, Who Will?
A member of the TPLF's old guard, Sebhat Nega, told a VOA correspondent last week in Ethiopia that the government is functioning normally despite Meles' absence.
"The system does not depend on one person," Sebhat said, adding that whatever Meles' medical issues are, the government is secure.
David Shinn, a former U.S. ambassador the Ethiopia in the 1980s, speculated last week that if Meles was aware of the need to plan for a successor, he would have had such a plan in place. He added, however, that if Meles' health problem came on suddenly, the political fallout could be more serious.
"If this is a more abrupt situation, then it could be far more difficult," Shinn said.
Opposition leader Seeye also warned of possible trouble, saying, any leadership transition would be difficult without Meles taking part. For the time being, Seeye said he believed a form of collective leadership was acting during Meles' absence.
Sebhat of the TPLF said such opposition speculation was the product of "wishful thinkers" hoping to take advantage of the current situation. He also denied that Meles ruled with an iron fist, noting the prime minister's efforts to de-centralize government rule in ethnically diverse Ethiopia over the past two decades.
"He doesn't have any hand in the affairs of the Oromo, of the Amhara, of the Tigre, or of the Afar, et cetera," said Sebhat. "He cannot have an iron hand. He can never be a despot."
Does Meles Rule By Consensus Or By Fiat?
Seeye disagreed, saying that Meles has been consolidating power for years.
"Meles is not just the chief executive officer of the administration, he is the law of the courts," said Seeye. "He could make his wishes the law of the land in a matter of hours. That's how he has been working."
Despite his political differences with Meles, Seeye said he hopes the prime minister will recover soon.
"I don't celebrate the pain of another human being or the passing of another human being," Seeye said. "I wish him recovery and I wish that he ends his political exit with a positive and constructive and historic note."
—-
Related:
Where is Meles Zenawi? Ethiopians Don't Know (CPJ)
Ethiopia's Missing PM: What's The Truth About Meles Zenawi's Health? (TADIAS)
Ethiopia Bans Newspaper After Stories On Meles Illness, protests by Muslims (Bloomberg News)
Media group: Ethiopia Curbs Reports on PM's Health (CBS News)
The Zenawi Paradox: An Ethiopian Leader's Good and Terrible Legacy (The Atlantic Magazine)
UPDATE: PM Meles Taking 'Sick Leave' (VOA News)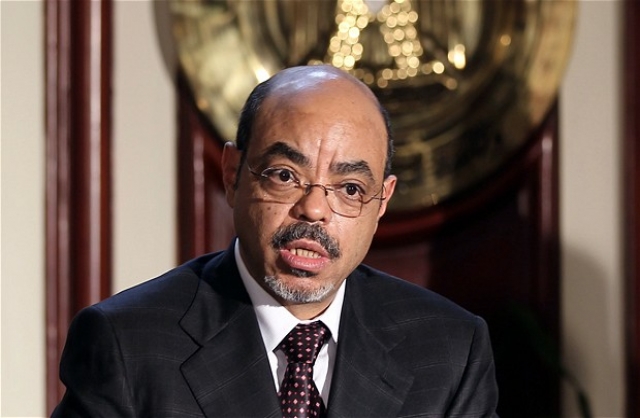 The Ethiopian government said Prime Minister Meles Zenawi is receiving medical attention at an undisclosed hospital outside of Ethiopia. There are reports that Mr Meles was in hospital in Belgium, suffering from a stomach complaint, according to BBC. (Photo: EPA)
Updated July 20, 2012
Ethiopia says Prime Minister Meles Zenawi is taking "sick leave" but will remain in power while he deals with an unspecified illness.
Government spokesman Bereket Simon briefed reporters Thursday in Addis Ababa, following media reports that the Ethiopian leader was critically ill at Saint Luc Hospital in Brussels, Belgium.
Bereket specifically denied reports on Ethiopian dissident websites that Meles has brain cancer. The spokesman did not identify the prime minister's illness or say where he is being treated, but said he is in "good and stable condition" and remains in charge of the government.
A government statement said Mr. Meles' sick leave was prescribed by his doctor, and noted he will resume work when he recuperates.
"You wouldn't make a statement like that – that is so open-ended – unless the problem is significant" Shinn said. He noted he has no information about the prime minister's health.
He added that Meles is the kind of leader who plans ahead. And if he is ill, he says the 57-year-old prime minister likely has a plan in place.
"I'd be willing to bet very good money that he has been planning some way to deal with this issue in order to ensure some kind of reasonable succession of government in Ethiopia," said Shinn.
Meles has led Ethiopia for more than 20 years, since taking power in a 1991 coup. He has not been seen in public for more than two weeks, and did not attend an African Union summit last Saturday and Sunday in the Ethiopian capital.
In an interview with VOA, Sibhat Nega of Ethiopia's ruling party said Meles is in better shape than reported.
"I can tell you for sure that there is no undesirable eventuality regarding his health," he said. "I am 100 percent sure that he's recovering health-wise, and he will be back to his official duty in a number of days."
Nega's statements are consistent with those of government officials, who said Wednesday the prime minister is sick, but not gravely ill.
Nega, who is a friend of the prime minister's, said the government has been functioning normally during Meles' absence, insisting that the "system does not depend on one person."
—-
Ethiopia Promises Details of PM Meles' Health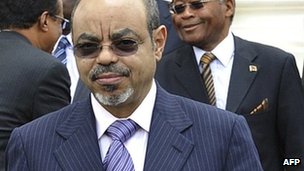 Prime Minister Meles Zenawi of Ethiopia (AFP)
VOA NEWS
By David Arnold
Speculation about the health of Ethiopian Prime Minister Meles Zenawi may be coming to an end soon. After days of rumors and unconfirmed reports that Meles was gravely ill, or even deceased, the Ethiopian government says it will clarify the situation at a news conference on July 18 [postponed until later this week].
The rumors and unconfirmed reports began last week and gained momentum when Meles did not attend a meeting of the African Union in Addis Ababa as expected. There was even speculation about who might succeed Meles if he could not finish his term in office in 2015.
Then on Monday, Ethiopia's deputy prime minister and foreign minister, Hailemariam Desalegne, confirmed that Meles was indeed ill, but refused to elaborate or say what the illness might be. The speculation increased again.
Meles has been the dominant political figure in this nation of approximately 93 million people since the rebel forces of the Tigrayan People's Liberation Front entered the capital, Addis Ababa, in 1991 and ended the 14-year dictatorship of Mengistu Hailemarian. Meles has for more than 20 years served as chairman of the TPLF and the larger Ethiopian People's Revolutionary Democratic Front that now holds all but one seat in the national parliament.
Until Monday, the government declined comment on Meles' health. His hand-picked deputy, Desalagne, yesterday told a Bloomberg News correspondent in Addis, "There is no serious illness at all." He said Meles would "return soon," but did not talk about the nature of the illness or where the nation's leader was receiving treatment.
The ambassador for public diplomacy, Getachew Reda, also gave a VOA reporter in the Amharic language service the same account, and refused to identify the illness and where the prime minister is being treated.
Rumors about Meles' health abound
In a nation where the government maintains strict control over the local media, unconfirmed reports have surfaced in recent days on Ethiopian dissident web sites around the world that the prime minister suffers from cancer, a brain tumor and even that he might be dead.
One unverified report is that Meles has recently received treatment at Saint-Luc University Hospital in Brussels. The hospital did not reply to a VOA request for information about whether Meles was or had recently been a patient there.
The Government Communications Affairs Office said July 17 it will hold a press conference Wednesday at 3 p.m. in Addis to disclose Meles' health condition.
First speculation about Meles' health began in local and opposition media around the world in 2009, when he was reported receiving treatment for an unnamed illness in Dubai. Rumors about the severity of his health re-appeared in opposition media when Meles failed to attend several major public events in recent weeks.
Out of public eye for two weeks
Although he was scheduled to open a New Partnership for Africa's Development in Addis on Saturday, Senegal, Macky Sall, took his place and announced that Meles could not attend due "to health conditions." Meles also failed to appear on Sunday at the opening of an African Union summit of more than three dozen African leaders at the Addis Ababa headquarters, where the prime minister usually plays host.
Earlier, Meles did not attend the July 9 celebration of neighboring South Sudan's independence day, and failed to appear to address parliament on July 8 to approve Ethiopia's current fiscal budget. State television did not include footage from a crucial July 16 parliamentary debate on the next budget, leading to speculation that he did not attend that state function either.
The Meles legacy and possible successors
Prior to his 2010 election, Meles publicly considered retirement but later said that the party pushed him to run for another five-year term.
During his current term Meles has risen in stature as an African leader in United Nations agencies and in the international community on issues such as climate change and economic development. He has launched major development programs in Ethiopia such as foreign investment in large commercial farmlands and the construction near the Sudanese border of the massive Grand Millennium Dam on the Abay River, which is a major source of Nile waters.
Many of these projects have stirred controversy within Ethiopia and among many in the Ethiopian diaspora. Although Ethiopia has been seen as a close U.S. ally for its support of anti-terrorism efforts in Somalia and the region, the State Department has been critical of his government's human rights record, the manner in which the government ran recent national elections, and of stifling free speech through swift use of new anti-terrorism laws. Those laws recently resulted in lengthy jail sentences for many Ethiopian journalists.
Meles first served as president of Ethiopia for four years, then chose to become prime minister. The role of president, now held by Girma Woldegiorgis, is considered largely ceremonial.
Possible successors as prime minister include:
The Minister of Health, Dr. Tewodros Adhanom Gebreyesus, whose leadership on health issues has garnered global attention. He is a close friend of Meles.
Meles' wife, Azeb Mesfin, who is a member of parliament and the party's powerful nine-member executive committee.
Hailemariam Desalegne, who is a former president of a southern region of Ethiopia who Meles elevated to national office in 2010.
—
Related:
Ethiopian leader Meles Zenawi 'in hospital' (BBC)
Fears are Growing for the Health of Prime Minister Meles Zenawi (The Telegraph)
Ethiopia's Deputy PM Says Prime Minister Meles Zenawi Is Ill (VOA News)
Ethiopia Says Meles Is Ill Amid African Union Summit Absence (Bloomberg)
Ethiopia Leader's Absence Raises Health Questions (ABC News)