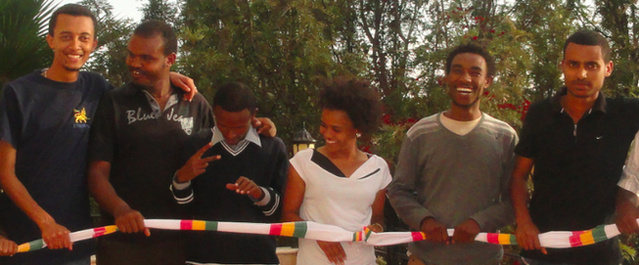 Tadias Magazine
News Update
Wednesday, July 30th, 2014
New York (TADIAS) – In solidarity with Ethiopia's jailed Zone 9 bloggers and journalists, a worldwide, multilingual Tweetathon is being organized by the free speech advocacy organization Global Voices Online. The Twitter event (under the hashtag #FreeZone9Bloggers) is scheduled for Thursday, July 31st from 10am – 2pm.
"The Global Voices community and our network of allies are demanding justice for these men and women, all of whom have worked hard to expand spaces for social and political commentary in Ethiopia through blogging and journalism," the organization announced. "We believe their arrest is a violation of their universal right to free expression, and that the charges filed against them are unjust."
"The bloggers' trial begins on August 4, 2014. Until then, and beyond, they will need all the support they can get. So this Thursday, we as a global community of bloggers, writers, activists, and social media experts will share this message around the world, tweeting in our native languages at community leaders, government and diplomatic officials, and mainstream media to draw public attention to the case."
Below are details about the Tweetathon.
—
A Tweetathon Demanding the Release of Jailed Ethiopian Bloggers
Date: Thursday, July 31, 2014
Time: 10am – 2pm — no matter what time zone you're in!
Hashtag: #FreeZone9Bloggers
More info at globalvoicesonline.org.
Related:
41 Organizations Call for Release of Detained Ethiopian Journalists and Bloggers
As Ethiopia's 'Zone 9′ Bloggers Get Popular, They Get Charged With Terror
Zone 9 Bloggers Charged With Terrorism
Interview With the Lawyer of Illegally Detained Zone9 Bloggers
CPJ condemns closed court hearings for nine Ethiopian journalists
Zone9 Co-Founder Speaks Out (Video)
Join the conversation on Twitter and Facebook.