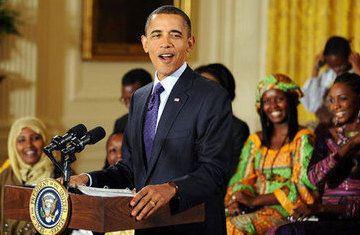 Above: President Obama held a forum at the White House on
Tuesday with 115 young leaders from Africa designed to mark
the fiftieth anniversary of African independence (Getty Images)
Tadias Magazine
Events News
Published: Tuesday, August 3, 2010
New York (Tadias) – President Barack Obama hosted a large contingent of young African leaders from the public and private sectors at the White House on Tuesday.
115 young leaders representing more than 40 countries – including Ethiopia – gathered for the East Room event, where the President led a town hall meeting urging the attendees to focus on economic progress, fighting corruption, disease and extremism on the continent.
"We are rooting for your successes," Obama said. "And we want to work with you to achieve that success. But ultimately, success is going to be in your hands."
The young leaders were joined by a number of U.S. administration officials, including Attorney General Eric Holder, Commerce Secretary Gary Locke, U.S. Trade Rep. Ron Kirk and USAID Administrator Rajiv Shah and others.
WATCH

According to the White House, the event, which was also designed to mark the fiftieth anniversary of African independence, "presents the U.S. government and American friends of Africa with an opportunity to deepen and broaden our understanding of the trajectories of African societies, and to reflect on how the next generation are building their communities' and their nations' futures – just as their predecessors did in the era of independence from colonial rule."
In addition to the town hall meeting, the three-day forum features small-group discussions on topics such as transparency and accountability, job creation and entrepreneurship, rights advocacy, and the use of technology to empower individuals and communities.
The administration hopes the event will also serve as a networking opportunity between the African leaders and their American counterparts. "The U.S. government's role in this gathering is as a convener, encouraging networks between young American and African leaders, and pursuing lasting partnerships on behalf of our common security and prosperity," the White House said. "This dialogue and follow-up events in Africa will help the U.S. government better assess how to support Africa's own aspirations going forward."
Per the U.S. Embassy in Addis Ababa, four young people represented Ethiopia at the forum, including Mahlet Eyassu Melkie, 29, a climate change activist; Meron Getnet Hailegiorgis, 27, an author; Salsawit Tsega Ketema, 30, Founder of Sel Art Gallery and Yohannes Mezgebe Abay, 35, Vice President of the Pan African Youth Union.
Cover Image: President Obama speaks during a town hall meeting with Young African Leaders in the East Room at the White House. (Jewel Samad/AFP/Getty Images)
White House Party for Africa Leaves Out Leaders (The New York Times)
Related from Tadias Magazine:
On the South Lawn of the White House (By Ayele Bekerie)
Video: Obama's Message To Africa during his 2009 visit to Ghana