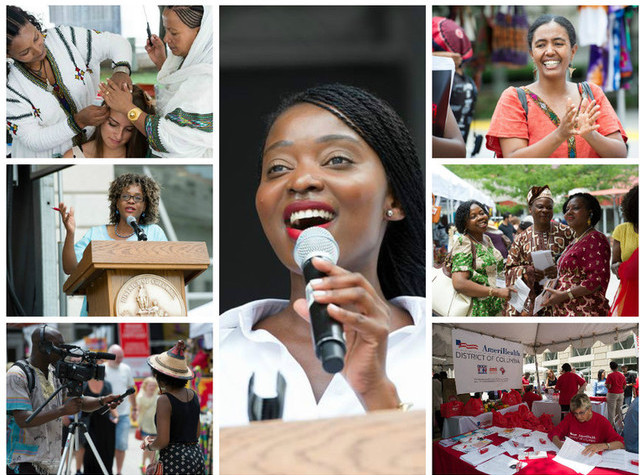 OAA Press Release
Friday, August 8, 2014
Washington, DC – On Sunday, August 3, 2014, Mayor Vincent C. Gray and his Office on African Affairs (OAA) held its 5th Annual DC Africa Festival at the Ronald Reagan Building and International Trade Center. A record number of people registered to attend the festival, which coincided with President Barack Obama's historic US-Africa Leaders Summit and served as a welcome to the 50 African leaders being hosted in our nation's capital. Over 1,000 attendees joined Mayor Gray and the Office on African Affairs for the festivities, held outdoors in the Reagan Building's adjoining Moynihan and Woodrow Wilson Plazas.
"President Obama's US-Africa Leaders Summit was a historic gathering, and our world class city was honored to host the African heads of state. The occasion warranted a parallel celebration of our city's diverse African diaspora community. Therefore, we seized the moment to showcase their presence, culture and economic contributions to the District of Columbia," said Mayor Gray. The Mayor also acknowledged the importance of Africa as a partner in trade and investment, noting the role of African diaspora businesses in cultivating meaningful links to the continent.
Emcee'd by Voice of America broadcast journalist Ndimiyake Mwakalyelye, the program kicked off with remarks from OAA Director, Ngozi Nmezi who stressed the importance of the festival theme, "From Africa to DC: Showcasing Diasporan Diversity, Building One City, highlighting its special focus on the migration of Africans to DC and the rapid growth of the District's African population, which has experienced a near 70% increase over the past decade. Director Nmezi also introduced the office's first-ever African Business Directory designed to serve as a tool for expanding African business networks and to educate the larger community on the presence of the city's African businesses. The Directory is currently available on OAA's website and a public launch is scheduled to take place in the coming months.
The festival program was packed with music by popular DC-based African bands and dance performers of international repute, including, Grammy nominated singer/songwriter Wayna, Cheik Hamala Diabaté, KanKouran West African Dance Company, Sahel, Moto Moto Marimba, Kignet Traditional Ethiopian Band and Emé & Heteru. DJ Underdog filled the air with rhythms and sounds from the African continent and beyond. The crowd was further captivated by Omenana Igbo, USA whose traditional Nigerian masquerade performance told the story of a young Igbo bride and groom. Festival goers got their own opportunities to share the spotlight when they participated in the customary Parade of African Flags procession which was accompanied by facts on each country and displayed the pride and connection that the District's African Diaspora held for their countries of origin. The Community to Runway Fashion Show further showcased the variety of clothes, hairstyles, cultural identities, and historical roots of Africans in DC. African diversity was equally well represented in over 40 food, arts, and crafts vendors who displayed a variety of savory dishes, handmade and imported crafts, attire, and other artistic creations.
The connectivity of African cultures was difficult to miss at the Woodrow Wilson Plaza and this was matched in intensity with the variety of activities and demonstrations on the Moynihan Plaza. The quiet concentration of children playing African games and learning basket making activities at the Children's Village; the robust resource corner featuring over 20 District government agencies and community based organizations who shared resources and information on available programs and services; the Wellness Pavilion where participants were offered advice on nutrition and healthy lifestyle choices and; the Culture Hut, where festival goers witnessed demonstrations on African acoustic instruments and hair braiding styles from east, west, and southern regions of the continent – all enriched the festival's artistic, cultural and informational landscape. The festival wound down with a raffle draw in support of 'We Count!' – OAA's demographic data collection initiative. Ritza Yana Hendricks of Southeast Washington, DC and Ihuoma Pearl Woko won round-trip tickets to any destination in Africa, courtesy of corporate donors, Ethiopian Airlines.
The Mayor's Office on African Affairs is deeply appreciative of the support from our major partners: Ronald Reagan Building and International Trade Center, DC Mayor's Office of Community Affairs, DC Commission on the Arts and Humanities, DC Office of the Secretary, DC Department of Consumer and Regulatory Affairs, DC Office of Human Rights, the National Museum of African Art, Smithsonian Institute, and AmeriHealth. We are equally grateful to our corporate donors – Capital Petroleum Group, LLC, Ethiopian Airlines, and Safeway, and our incredible team of 50+ volunteers! Our thanks also go to photographers Adedayo Kosoko and Kaveh Sardari whose images capture the energy and dynamism of the festivities.
—
Related:
Tadias Interview: Ngozi Nmezi, Director of the DC Mayor's Office on African Affairs
Join the conversation on Twitter and Facebook.