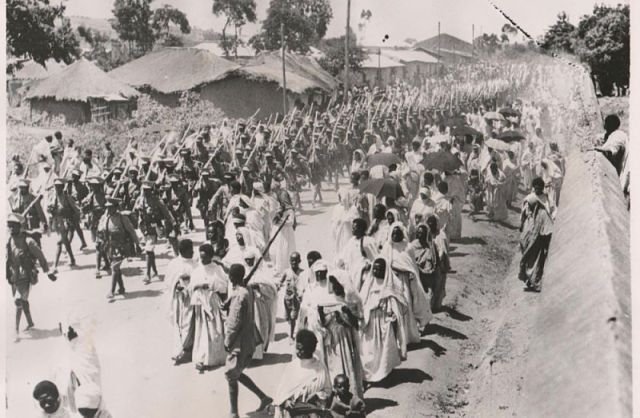 Tadias Magazine
By Tadias Staff
Updated: August 14th, 2017
New York (TADIAS) — The recent publication entitled Prevail — focusing on rarely told personal stories from Ethiopia's victory over fascist Italy during World War II — is now being converted into a documentary film. Written by Toronto-based journalist and author, Jeff Pearce, Prevail features profiles of heroes including Jagama Kello, Ambassador Imru Zelleke, Lekelash Bayan, Lorenzo Taezaz, African-American pilot John Robinson and Emperor Haile Selassie.
"This is our story and unless we tell it no one else is going to do it for us," says Bereket Kelile of Sacramento, California who is helping to fundraise for the film project. "It was above-the-fold front page news in the New York Times and other big newspapers at the time, but today it's not a very well known event. The really urgent part is that there are still people alive from that era, so we are kind of racing against the clock to get them on tape. Unfortunately, we have already lost valuable people in recent years such as Jagama Kello and historian Richard Pankhurst."
Bereket, who was born and raised in the U.S., first learned about the book after reading the Tadias interview with Jeff Pearce three years ago. He later purchased the book and wrote his own review for the website Medium that led to an introduction and friendship with Pearce.
"Jeff has done his homework," Bereket says. "It's a well-researched book. In addition to narrating the story from the Ethiopian point of view what I like about what Jeff says is that from the non-Ethiopian perspective it's a story that's very much relevant even here," Bereket explains. "It had an impact in this country as well. African-Americans were concerned about it and there were thousands of people in Harlem, for example, lined up to volunteer to fight for Ethiopia."
The online fundraising page for the Prevail film project (www.gofundme.com/ethiopiawins) notes some of the few astonishing facts about the war including that "everyone from Gandhi to Trotsky, from Josephine Baker and Langston Hughes to Bertrand Russell and George Bernard Shaw, had an opinion about it; a Broadway play was shut down over it; Marconi, a Fascist, was trying to build a microwave weapon to fight the British because of Ethiopia; about 20,000 Black Americans marched on one day alone over it on August 3, 1935, and there were other massive protests in America and around the world; It inspired a 17-year-old Nelson Mandela."
The war was full of atrocities including the massacre of "tens of thousands of Ethiopians over a three-day period, and thousands more taken to concentration camps, where about half of them died." And finally "it ended with an astonishing rescue against overwhelming odds. A true tale of underdog victory."
Bereket shares that their initial goal is to raise $50,000 to cover the interviews that will be conducted in Ethiopia, England and the United States as well as to pay for archival footage.
—
Click here to learn more and contribute towards the making of Ethiopia Prevails (a film).
Join the conversation on Twitter and Facebook.