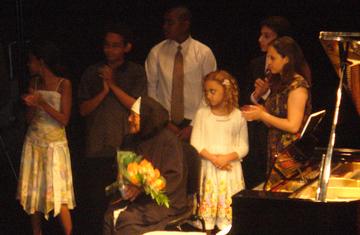 Tadias Magazine
By Makeda Amha

Published: Tuesday, August 19, 2008
New York (TADIAS) – Emahoy Tsege Mariam Gebru performed at a sold out benefit concert for the first time in 35 years at the Jewish Community Center in Washington, DC last month. The 85-year-old nun and renowned classical pianist and composer captured an eager audience, along with seven young performers who shared the stage with her.
The first set at the July 12th event included "The Song of the Sea" in E-Flat Major and "Mother Love" in G major and the previously unpublished "The Phantoms" — a set of works evoking early and vivid childhood memories from her early life, growing up in Addis Ababa, Ethiopia and traveling in Switzerland at the age of six. She played with an unabashed love for melody and thoughtfulness, finishing the set carefully with Beethoven's "Fur Elise," one of her favorites.
The next generation of talented, young performers, ranging in age from eight to 16, played various instruments like the piano, violin, flute and saxophone. Each performer brought the impulses of Girma Yifrashewa, Vivaldi, Schubert and Coltrane.
The last set of the program concluded with two unpublished works from Emahoy. Her extraordinary performance was viscerally and emotionally moving. Her astounding ability as a classical pianist and her skill to warmly express "Reverie," was a pleasure to listen to, as was "Presentiment," a sweet, poetic Sonata in B-Flat Major. She finished the set with a moving "Quo Vadis," a spiritual reflection that asks where everyone is going.
After a laudatory announcement from the audience, Emahoy returned to the stage to perform "Homeless Wanderer," a beautifully-phrased piece, with an improvisatory quality that only she can express. The final and her most well known work received a splendid, big over- the-top-rendition from Adam Zerihoun, a 16-year-old from New Jersey with stunning fingerwork.
The nostalgic mood of the program signified a torch-passing moment from one generation to another. There was the exceptionally gifted Anasimos Mandefro, a 12-year-old, saxophonist who performed "Mr. PC" and "Equinox" by John Coltrane and 16-year-old pianist, Ariel Rose Walzer, who elegantly performed Impromptu No. Allegro in E-Flat by Schubert. Given the right type of support, Emahoy's compositions have a chance of transcending a new form of classical Ethiopian music.
The concert's proceeds went to The Emahoy Tsege Mariam Music (ETM) Foundation, a non-profit organization whose mission is to teach classical and jazz music to children in Africa and assist American children to study music in Africa. Emahoy's music can be heard on the Ethiopiques Series, Vol 21.
—
About the Author:
Makeda Amha is a great niece of Emahoy Tsege Mariam Gebru.
Listen to 'The Homeless Wanderer' by Emahoy

—
Related:
Historic Concert by Ethiopian Nun Pianist
Emahoy Tsegué-Mariam Guebrù: Jersualem's Best Kept Musical Secret for 30 Years
Join the conversation on Twitter and Facebook