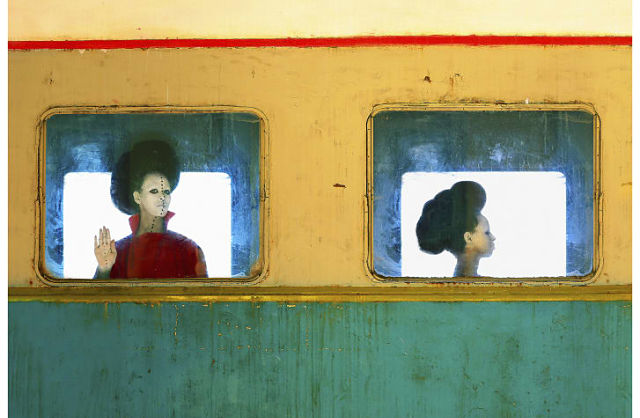 By Meron Moges-Gerbi
When you look at Aida Muluneh's work, it's clear where her passion lies: Ethiopia. The photographer has been telling the story of Ethiopia long before it started trending this year. The country has undergone tremendous change in 2018, most of which stems from the election of its new 41-year-old Prime Minister, Abiy Ahmed, one of the most progressive leaders in the country's history.
Muluneh's work has garnered international attention and her photographs have been displayed at MoMA, at Toronto's Aga Khan Museum and at the largest European photography festival in Baden, Austria.
Muluneh was born in Ethiopia, a child of the diaspora. As a youth, she lived in Yemen, England and Cyprus, before finally settling in Canada. Her education brought her to the United States, where she graduated from Howard University, in Washington DC. Later, she became a photojournalist with the Washington Post, before finally moving to Addis Ababa, Ethiopia's capital, in 2000.
"My work often starts with a sketch, and I approach each image as a film production in which the character, set design, lighting and styling come together," she said in an email interview. "I utilize face painting as a form in which the inspiration is driven by body ornamentation, not only in my country, but also various parts of the world. I am deeply influenced by various traditional cultures, hence in a sense, I am bringing the past into the future through various forms."
—
Related:
Ethiopian Artist Aida Muluneh Directs Fatoumata Diawara's Music Video
Ethiopian Photographer Aida Muluneh Featured in W Magazine
Spotlight: Aida Muluneh in MoMA's Being: New Photography 2018
Aida Muluneh's First Solo Exhibition at David Krut Projects
Tadias Interview: Aida Muluneh on Her Ethiopia Exhibition 'So Long a Letter'
Join the conversation on Twitter and Facebook.