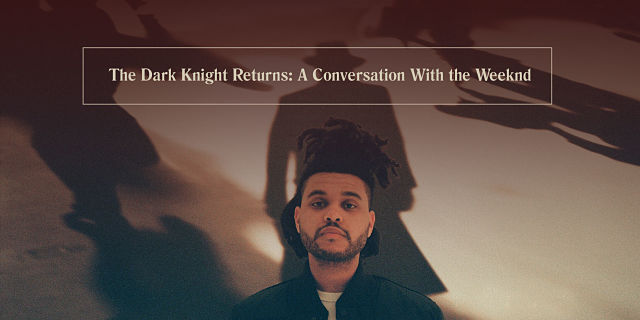 BY Anupa Mistry
AUGUST 31, 2015
All of the lights are off in the Weeknd's apartment. It's 49 floors up, high above the long shadows of Toronto's financial district, and the clouds outside make everything in this sparse and tidy condo look monochrome. There is a white leather sectional stationed on a white rug so plush it would be disrespectful not to take your shoes off before walking on it. Platinum records for his 2012 mixtape collection Trilogy hang on the walls. A massive window reveals Lake Ontario, which has been a blueish boon to winter-weary city folk all summer; on this evening in late August, it's grey, a precursor to the grim season ahead.
Abel Tesfaye strolls into the room and sits down at a long, dark, smoked-glass dining table. He's in house clothes: a black Miami Heat mesh short-sleeve with fitted black jersey-blend pants and white house slippers. A child of immigrants who was raised in the bustling, brown suburb of Scarborough, he wears a filigreed Ethiopian cross around his neck—it's the kind of token that stays hidden beneath clothing, but never comes off. His hair, the subject of so much curiosity and so many memes simply because he does whatever he wants with it, is there on his head as it should be. Mugs of green tea are set down on a folded paper towel, in lieu of coasters. Tesfaye smiles easy and often and is comfortable locking eyes, except when challenged to speak at length on his music. Then, he furrows his brow and speaks in clichés; his eyes swerve to the left; he stares at the iPhone set between us that is recording his thoughts; or he picks at an invisible blemish on the crook of his left arm. Otherwise, he asks questions. He seems eager to please, if not a bit nervous. When we say goodbye, Tesfaye's last words are: "Write good things about me!" This is not the Weeknd I expected…
Pitchfork: You retweeted a recent Pitchfork piece about how your East African roots are reflected in your music, what did you think of it?
AT: It's the first time any writer has really dove into that part of me and my music, but it's always been there. That's how I was raised. My mother, my grandmother, my uncles would play Ethiopian artists like Aster Aweke and Mulatu Astatke all the time in the house. They would drink coffee, eat popcorn, and listen to the music. It's such beautiful music, but I didn't realize how beautiful it was until I left that head space. That's why I feel like my singing is not conventional. I mean, if you look at technique, I'm not a technical singer; I know I get bashed by R&B heads 24/7. I'm not here to do Luther Vandross runs. I can't do what Jennifer Hudson does. But the feeling in my music and in my voice is very Ethiopian and very African and much more powerful than anything, technically. There are songs like "Gone" where I don't even know what I'm saying—I let my voice do all the talking. I'll probably do an album like that one day where it's not lyrics at all, just melodies and great production. Maybe the next one, I don't know. That's the Ethiopian side of me. I didn't know what [the musicians] were saying when I was younger: Just because you speak it doesn't mean you really understand what they're saying. Ethiopian poetry is a different language. I can speak and understand [Amharic], but I can't understand their poetry. When my mother would translate—it's the most beautiful thing ever. I've never been back home to Ethiopia, but when I do go I'm going to make it very special.
Read the full interview at Pitchfork.com »
—
Related:
The Unstoppable Abel Tesfaye (The Weeknd): Rebel with Harmony
The Weeknd (Abel Tesfaye) to Guest Star in TV's Hottest Hip-Hop Drama 'Empire'
Can the Weeknd Turn Himself Into the Biggest Pop Star in the World? (NY Times)
Inspired by Michael Jackson, The Weeknd Goes from Rebellious Songwriter to Chorus Lover
The reclusive artist talks 'Beauty Behind the Madness' (Radio.com)
With dark tales of sex and drugs, is the Weeknd the next face of R&B? (The Guardian)
Join the conversation on Twitter and Facebook.