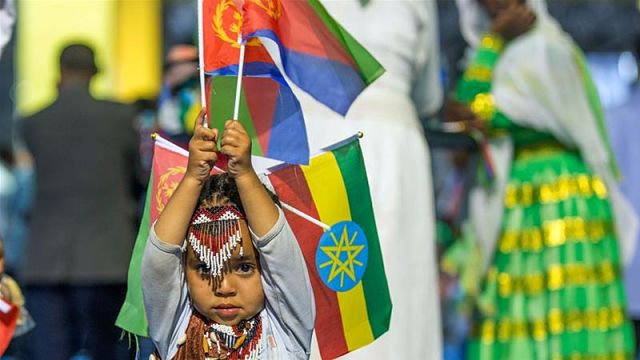 UPDATED: SEPTEMBER 6, 2018
Ethiopia reopens embassy in Eritrea amid thaw in ties
Ethiopia has reopened its embassy in Eritrea after a 20-year hiatus, in a further sign of improving relations between the neighbours who signed a peace accord earlier this year.
A brief reopening ceremony in the Eritrean capital, Asmara, on Thursday was attended by Ethiopian Prime Minister Abiy Ahmed, Eritrea's President Isaias Afwerki and senior officials of both countries, according to state-affiliated Ethiopian Fana Broadcasting.
Redwan Hussein was named the new Ethiopian ambassador.
Since signing an agreement in Asmara to restore ties on July 9, leaders from both countries have moved swiftly to sweep away two decades of hostility that followed the conflict in 1998.
In July, Eritrea reopened its embassy in the Ethiopian capital, Addis Ababa, and named an ambassador to represent it.
Air links were also re-established with Ethiopian Airlines commencing direct passenger flights between Addis Ababa and Asmara.
—
Related:
Ship docks, road upgrade planned as Eritrea, Ethiopia ties strengthen (Reuters)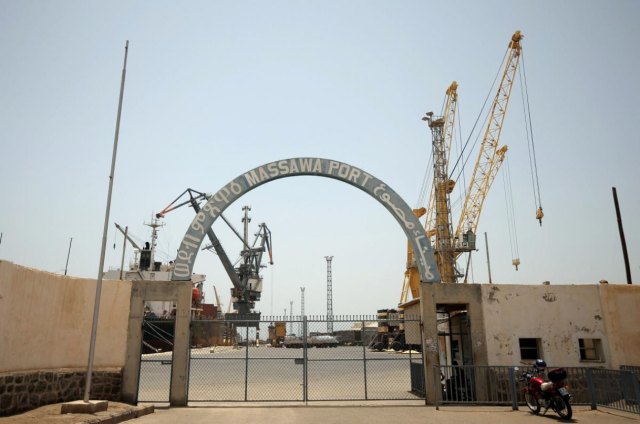 (Photo: A general view shows a locked gate of Massawa Port, Eritrea July 22, 2018/by Tiksa Negeri/REUTERS.)
SEPTEMBER 5, 2018
By Aaron Maasho
An Ethiopian ship docked in an Eritrean port for the first time in two decades on Wednesday and Eritrea announced plans to upgrade a road to its neighbor, local media said, in further signs of strengthening ties between the former foes.
The announcements came as Ethiopia's Prime Minister Abiy Ahmed met Eritrean President Isaias Afwerki in their second face-to-face encounter since a July peace deal ended two decades of enmity.
Abiy and Isaias traveled the entire 70-km (40-mile) road that links Assab's port along the Red Sea to the town of Bure just across the border in Ethiopia, which had not been used since a two-year war broke out between the neighbors in 1998.
"They were able to confirm that the existing road link was in good state," state-run EriTV said.
"There are (now) plans to modernize the port in Assab and enlarge the road linking it to Bure to four lanes (from one)," it added.
—
Join the conversation on Twitter and Facebook.