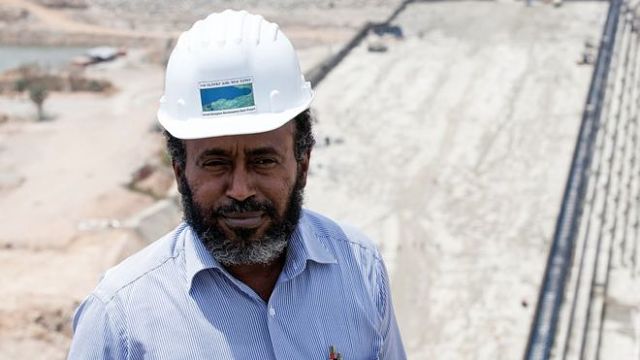 BBC News
Mr Simegnew's body was found in a car in the main square of Ethiopia's capital, Addis Ababa.
The engineer was in charge of the country's controversial multi-billion-dollar project to dam the Nile.
Spontaneous demonstrations broke out in the wake of his death as some thought he had been murdered.
At the time, Prime Minister Abiy Ahmed said he was "saddened and utterly shocked" by the news of Mr Simegnew's death.
At his funeral, police used tear gas to control the thousands who had gone to pay their respects.
For many the engineer had come to represent the country's ambitions
After more than a month looking into the engineer's death, the authorities found "that he used his own gun and killed himself," police chief Zeinu Jemal told journalists.
Mr Simegnew's fingerprints had been found on the gun and the doors of the vehicle were all locked from the inside, the police chief added.
He also said that the engineer had left messages for his secretary and child explaining that he might be going away for a while.
Commenting on what could be behind the suicide, Mr Zeinu said preliminary investigations suggested that Mr Simegnew may have been under pressure because of the delays and the increasing cost of the Grand Ethiopian Renaissance Dam.
But, he said, more investigations need to be carried out.
The dam, which has been called the most ambitious infrastructure project ever achieved on the continent, was supposed to have been finished two years ago. Now, seven years into construction, it is only 65% complete, reports the BBC's Abebe Bayu.
The project is also expected to go over its $4bn (£3.1bn) budget.
—
Join the conversation on Twitter and Facebook.