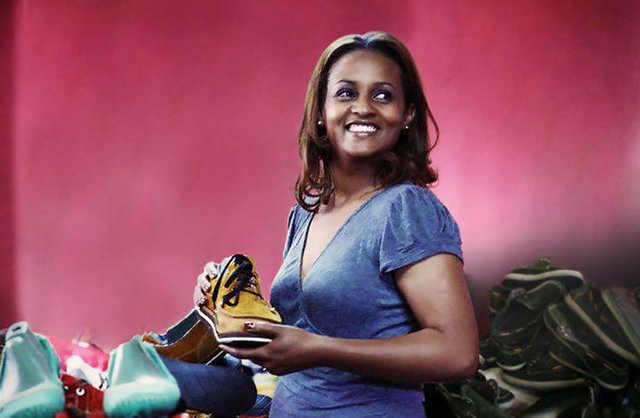 Tadias Magazine
By Tadias Staff
Published: Tuesday, September 9th, 2014
New York (TADIAS) — "These people are driven by their passion. They are changing the world, each in their own way. They are People of our Time."
The above quote opens the latest edition of BMW Magazine, a biannual lifestyle publication introducing international heroes of this generation, including Ethiopian shoe manufacturer Bethlehem Tilahun Alemu, who rose from humble beginnings in one of the poorest neighborhoods in Addis Ababa to become Founder & CEO of one of the fastest growing footwear companies in the world. SoleRebels has earned Bethlehem the respect and admiration of many individuals and organizations globally.
"The best remedy for poverty? Creating world-class products," Bethlehem Tilahun Alemu, a mother of three, says. "SoleRebels is like hip-hop, something that started really small and today can be found in every country on the planet."
"One thing Bethlehem Tilahun Alemu is not lacking in is self-confidence," notes BMW Magazine. "Is this overconfidence? Perhaps, but the last few years have given Alemu every reason to be bold and optimistic."
The magazine adds: "Having grown up in a poor suburb of the Ethiopian capital Addis Ababa, she soon realised that there was only one way to defeat poverty – with products that could compete in the global marketplace. Footwear, for example. Shoes are traditionally made in Ethiopia in a very special way: from indigenous jutes, recycled coffee sacks, organically tanned leather and the treads of car tyres for the soles. Alemu started off with five shoemakers. Today 70,000 pairs of shoes leave her factory in her native town every year. Forbes magazine voted the founder one of "Africa's most successful women". The colourful shoes are popular in the west, too, especially among a young, fashion-conscious, urban clientele where buzzwords like sustainability have the desired effect. For years now soleRebels has been expanding and today exports to no fewer than 45 countries. A small global brand – and the only one with its flagship store in Addis Ababa."
Earlier this summer Bethlehem was also honored by The Oprah Magazine (South Africa) on its fourth annual O Power List featuring 21 inspiring female leaders from the African continent, as well as by pan-African media company Face2Face Africa, which bestowed on her the "Entrepreneur Award" during a ceremony held here in New York on July 26th for her pioneering work as a head of SoleRebels. More recently former President George W. Bush named her Pink Ribbon Red Ribbon Ambassador for Ethiopia to serve as an advocate for a global health partnership founded by the George W. Bush Institute, the U.S. Government through the President's Emergency Plan for AIDS Relief (PEPFAR), Susan G. Komen®, and the Joint United Nations Programme on HIV/AIDS (UNAIDS).
In addition to Bethlehem, BMW Magazine highlighted other modern heroes including German-Taiwanese race driver Vivianne Mainusch and Greek fashion designer Mary Katrantzou.
Read their profiles at BMW Magazine.

—
Join the conversation on Twitter and Facebook.