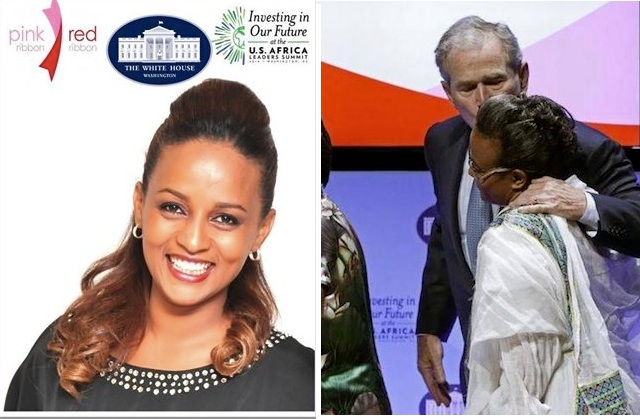 Tadias Magazine
By Tadias Staff
Published: Monday, August 11th, 2014
New York (TADIAS) — Last week during the inaugural US-Africa Leaders' Summit in Washington, D.C., former President George W. Bush convened First Spouses from across Africa, where he announced the launch of his global health initiative Pink Ribbon Red Ribbon in Ethiopia and Namibia focusing on preventing cervical cancer, which is the most common type of cancer in females in Ethiopia and the second most common in Namibia.
At the gathering held on Wednesday, August 6th entitled Investing in Our Future, "an event to complement President Obama's hosting of heads of state and government from the continent," Bush also introduced the first group of "Ambassadors for the public-private partnership" including Bethlehem Alemu, Founder and Managing Director, soleRebels (Ethiopia); Strive Masiyiwa, Founder and Chairman, Econet Wireless (originally from Zimbabwe); Ambassador Gertrude Ibengwe Mongella, stateswoman (Tanzania); and Isha Sesay, Anchor and Correspondent, CNN International (United Kingdom/Sierra Leone).
"The members of the group will use their personal platforms and networks to encourage social change, public support, and national policies to eliminate cervical cancer," the George W. Bush Institute said in a press release. "They will also join with Pink Ribbon Red Ribbon partners to spread positive messages that empower and drive women to seek care for themselves and their daughters, including screening, treatment, and vaccinations."
The Bush Center added: "Pink Ribbon Red Ribbon is a global health partnership founded by the George W. Bush Institute, the U.S. Government through the President's Emergency Plan for AIDS Relief (PEPFAR), Susan G. Komen®, and the Joint United Nations Programme on HIV/AIDS (UNAIDS). The partnership — which has helped screen over 100,000 women for cervical cancer in Botswana, Tanzania, and Zambia in the last three years — will build on existing healthcare programs in Ethiopia and Namibia to add interventions to prevent, screen for, and treat cervical cancer. The disease continues to be the number-one cancer killer of women in sub-Saharan Africa, exacerbated by its connection with HIV, since HIV-positive women are four-to-five times more likely to contract cervical cancer than their HIV-negative peers."
—
Related:
President Obama Gives Progress Report on U.S.-Africa Leaders Summit
Media Panel Shares Recommendations at Capitol Hill During US-Africa Leaders Summit
Photos & Video: President Barack Obama's Historic U.S.- Africa Summit
Obama Announces $33B Commitment at Africa Forum
African & U.S. Scientists Hold Technology & Innovation Symposium at US-Africa Summit
Civil Society Forum Kicks Off at Historic US-Africa Summit in DC
US-Africa Summit Events Under Way in Washington
First Lady Michelle Obama Speaks on Girls' Education at YALI Presidential Summit
Bill Clinton, Michael Bloomberg at Africa Summit
Meet the Mandela Washington Fellows From Ethiopia
Obama Renames Africa Young Leaders Program For Nelson Mandela
U.S.-AFRICA SUMMIT 2014: Preview
Transport Chiefs From Five Countries to Visit Chicago Ahead of U.S.-Africa Summit
Ambassador David Shinn on the 2014 U.S.-Africa Leaders Summit
Join the conversation on Twitter and Facebook.