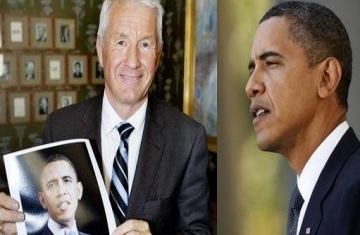 Above: Members of the Norwegian committee that gave Barack
Obama the Nobel Peace Prize are strongly defending their choice
against a storm of criticism that the award was premature and a
potential liability for the U.S. president. Read more from AP.
Obama Wins Nobel Peace Prize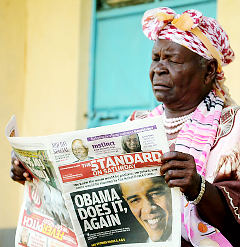 The step-grandmother of the President of
the United States, Sarah Obama, reads
a local Kenyan paper Saturday for news
on the Nobel Peace Prize. (Azim/AP).
Video: Obama's Statement:

Watch: Obama Brings Honor to America (Rachel Maddow)
Watch: Fareed Zakaria on Obama's week of war and peace


Related:
The Election of Barack Obama HBO series Premieres November 3
By The People: The Election of Barack Obama
While Obama's meteoric rise to the White House has been well
documented in the press, few have witnessed the behind-the-
scenes story of the passionate campaigners who helped a
young African-American freshman senator attain the nation's
highest office.
Video: Watch the trailer