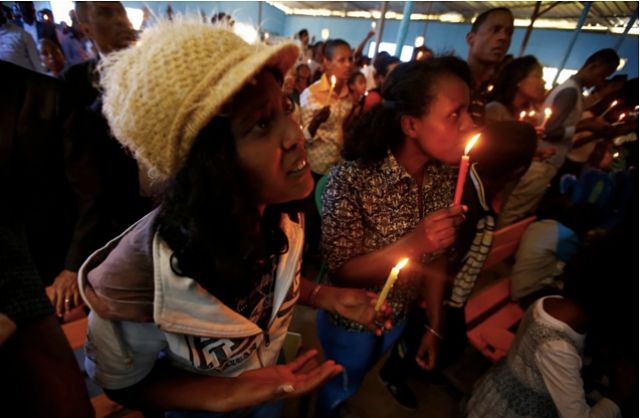 The annual U.N. General Assembly meeting provides an unparalleled opportunity for world leaders to take to the bully pulpit of the U.N. chamber and trumpet their country's achievements or slam their enemies.
Last month, presidents, kings and prime ministers talked about the dangers of climate change, progress made in development goals, the threats of terrorism or their responses to the global immigration crisis. But when Ethiopia's Prime Minister Hailemariam Desalegn took the podium Sept. 21, the global challenge he had in mind was perhaps unexpected: social media.
There were many other things he could have discussed, including Ethiopia's impressive investments in infrastructure like hydroelectric dams and its high growth rates — or even a devastating drought that the government and its international partners have confronted this past year.
"We are seeing how misinformation could easily go viral via social media and mislead many people, especially the youth," he said. "Social media has certainly empowered populists and other extremists to exploit people's genuine concerns and spread their message of hate and bigotry without any inhibition."
The state has singled out social media as being a key factor in driving the unrest now gripping the country. Sites like Facebook and Twitter are now largely blocked in the country, as is Internet on mobile phones, which is how most people in this country of 94 million find their way online.
Read more at The Washington Post »
—
Related:
Ethiopia: Opposition Wants 'Real Change' But Views on Tactics Differ (VOA)
Once a Darling of Investors, Ethiopia Sliding Towards Chaos — The Economist
The Washington Post Editorial Regarding Ethiopia's State of Emergency
German's Angela Merkel Calls for Ethiopia to Open Up Politics After Unrest
Angela Merkel Signals Support for Ethiopia's Protesters in Visit (AP)
Ethiopia: Foreign Investors Warily Eye Crackdown – The Wall Street Journal
Ethiopia Put Under State of Emergency (AP)
In Ethiopia Protesters Attack Factories, Eco Lodge and Flower Farms
American Killed in Ethiopia Identified as UC Davis Researcher Sharon Gray
U.S. citizen killed, foreign factories attacked in Ethiopia
US Says Female American Citizen Killed in Ethiopia Amid Protest
After Ethiopia Irrecha Tragedy, Renewed Calls on U.S to Take Stronger Measure
Ethiopia Protests Continue Over Fatal Bishoftu Stampede at Irrecha Festival
Join the conversation on Twitter and Facebook.