Updated: October 17th, 2016
Ethiopia's government has declared a six-month state of emergency in the face of an unprecedented wave of violent protests.
Activists in the country's Oromia region has been holding demonstrations since last November, and protesters from the Amhara region have also joined in.
The deaths of at least 55 people at an Oromo religious festival on 2 October triggered fresh unrest, including the targeting of some foreign-owned businesses.
Rights groups say that at least 500 people have died during the protests overall and last week Prime Minister Hailemariam Desalegn said that could be an accurate estimate.
The emergency was announced earlier this month but the government has now made clear what this means in practical terms.
Here are some of the things that are restricted:
1. Social media
You cannot use social media, such as Facebook and Twitter, to contact what are called "outside forces". In fact, any attempt to communicate with "terrorist organisations and anti-peace groups designated as terrorist" is banned.
2. Broadcast Media
You cannot watch the TV channels Esat and OMN, which are both based outside the country. The government has described them as "belonging to terrorist organisations".
3. Protests
You cannot organise a demonstration at your school or university, neither can you be involved in a political campaign that is "likely to cause disturbances, violence, hatred and distrust among the people".
4. Gestures
You cannot make a political gesture, such as crossing your arms above your head, or communicate a political message to the public "without permission".
Read the full list at BBC News »
—
Related:
Ethiopia Government Unveils Rules for State of Emergency (AP)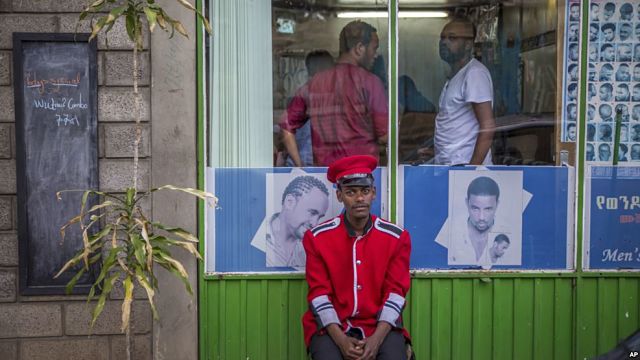 A security guard sits near a gate in Addis Ababa on October 10, 2016. Ethiopia is under state of emergency, the first in a quarter-century as grassroots anti-government protests continue. (AP photo)
By ELIAS MESERET
Oct 16, 2016
ADDIS ABABA, Ethiopia — The Ethiopian government has unveiled stringent rules for its state of emergency which the opposition says is meant to curb a wave of protests, sometimes deadly, in the Oromia region and other areas.
Hundreds have been killed in anti-government protests in the past year, according to human rights groups and opposition activists. The protesters have been demanding wider freedoms in one of Africa's best-performing economies.
On Oct. 2, more than 50 people were killed in a stampede after security forces opened fire on anti-government protesters during a religious festival in Bishoftu, southeast of the capital. The incident sparked more violence in Oromia leading the government to announce the state of emergency. The government has also enforced an internet blackout.
Ethiopia doesn't need a state of emergency said Yilikal Getnet, chairman of the opposition Blue Party, Sunday. People have only been expressing their dissatisfaction with the government, he said.
The rules announced late Saturday restricts the movement of diplomats 40 kilometers (25 miles) outside of Addis Ababa without official permission. The emergency prohibits anyone from making contact with groups that are labeled as terrorist and from watching media channels like Oromia Media Network and Ethiopian Satellite Television and Radio, according to a statement issued by Siraj Fegessa, Ethiopia's minster of defense and head of the Command Post set up to oversee the state of emergency law. Those who break the terms of the emergency risk jail terms of three to five years.
The emergency also outlaws rallies and public meetings without permission from authorities and gives security forces the right to detain and search suspects without a court order.
Ethiopia's largest ethnic group, the Oromo, began protesting almost a year ago when the government proposed annexing some of their land into the capital, Addis Ababa, as part of a drive to transform this largely agricultural nation into a regional manufacturing power. While the government later abandoned the idea, the protests broadened into demands for more rights and for the release of detained activists, opposition figures and journalists.
—
Related:
Ethiopia announces new curbs as part of state of emergency measures (Reuters)
In Ethiopia's War Against Social Media, the Truth is the Main Casualty
Ethiopia: Opposition Wants 'Real Change' But Views on Tactics Differ (VOA)
Once a Darling of Investors, Ethiopia Sliding Towards Chaos — The Economist
The Washington Post Editorial Regarding Ethiopia's State of Emergency
German's Angela Merkel Calls for Ethiopia to Open Up Politics After Unrest
Angela Merkel Signals Support for Ethiopia's Protesters in Visit (AP)
Ethiopia: Foreign Investors Warily Eye Crackdown – The Wall Street Journal
Ethiopia Put Under State of Emergency (AP)
In Ethiopia Protesters Attack Factories, Eco Lodge and Flower Farms
American Killed in Ethiopia Identified as UC Davis Researcher Sharon Gray
U.S. citizen killed, foreign factories attacked in Ethiopia
US Says Female American Citizen Killed in Ethiopia Amid Protest
After Ethiopia Irrecha Tragedy, Renewed Calls on U.S to Take Stronger Measure
Ethiopia Protests Continue Over Fatal Bishoftu Stampede at Irrecha Festival
Join the conversation on Twitter and Facebook.