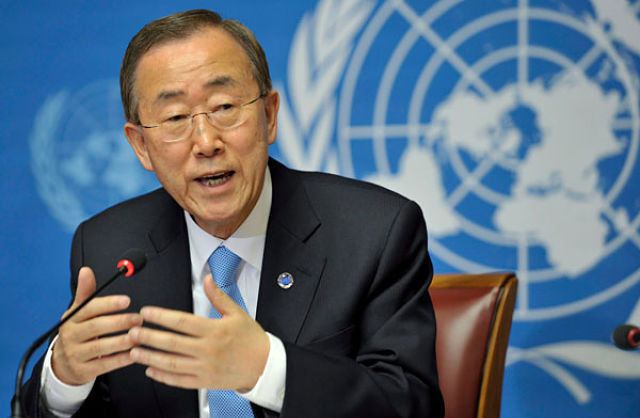 United Nations
Oct 17, 2016
UN Head Calls for 'Calm and Inclusive Dialogue' to Resolve Ethiopia Crisis
U.N. Secretary-General Ban Ki-moon is urging the Ethiopian government to ensure "the protection of fundamental human rights" following its imposition of stringent rules under its state of emergency.
U.N. spokesman Stephane Dujarric said Monday that Ban has been following developments in Ethiopia "with concern" following the imposition of the state of emergency effective Oct. 8. The new rules announced late Saturday include a ban on any contact with groups that are labeled as "terrorist."
Dujarric said Ban "reiterates his call for calm and restraint and calls for inclusive dialogue to resolve all grievances."
—
Related:
7 Things Banned Under Ethiopia's State of Emergency
Ethiopia announces new curbs as part of state of emergency measures (Reuters)
In Ethiopia's War Against Social Media, the Truth is the Main Casualty
Ethiopia: Opposition Wants 'Real Change' But Views on Tactics Differ (VOA)
Once a Darling of Investors, Ethiopia Sliding Towards Chaos — The Economist
The Washington Post Editorial Regarding Ethiopia's State of Emergency
German's Angela Merkel Calls for Ethiopia to Open Up Politics After Unrest
Angela Merkel Signals Support for Ethiopia's Protesters in Visit (AP)
Ethiopia: Foreign Investors Warily Eye Crackdown – The Wall Street Journal
Ethiopia Put Under State of Emergency (AP)
In Ethiopia Protesters Attack Factories, Eco Lodge and Flower Farms
American Killed in Ethiopia Identified as UC Davis Researcher Sharon Gray
U.S. citizen killed, foreign factories attacked in Ethiopia
US Says Female American Citizen Killed in Ethiopia Amid Protest
After Ethiopia Irrecha Tragedy, Renewed Calls on U.S to Take Stronger Measure
Ethiopia Protests Continue Over Fatal Bishoftu Stampede at Irrecha Festival
Join the conversation on Twitter and Facebook.