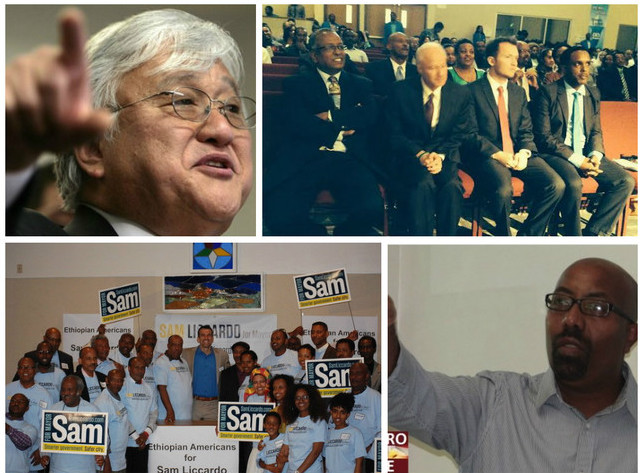 Tadias Magazine
By Tadias Staff
Published: Wednesday, November 5th, 2014
New York (TADIAS) – Tuesday's midterm U.S. election saw a number of lawmakers and city leaders from both parties actively courting the Ethiopian American vote. And mostly the results were successful.
In the West Coast, Congressman Mike Honda (Democrat of California) who was recently endorsed by the Ethiopian American Council in his re-election campaign, appears to have fended off the fiercest challenge to his post since he took office nearly fourteen years ago. The San Jose Mercury News reports that "Rep. Mike Honda held a close lead over challenger Ro Khanna Wednesday morning in the nationally watched Democrat-on-Democrat House race. Honda and Khanna, a former Obama administration Commerce Department official who lives in Fremont, were vying to represent the heart of Silicon Valley and the first Asian-American majority House district outside Hawaii. As of the updated count at 4:43 a.m., Honda led Khanna by about 4.5 percentage points — down from his initial 7-point lead — with all of the precincts counted but many thousands of vote-by-mail ballots yet to be tallied."
"It's a good beginning but it's not the end yet," Honda had said late Tuesday night, adding that he was encouraged by the support he saw around the district earlier in the day. "The energy was high and people were responding very positively."
In another good news for the Ethiopian American Council (EAC) Councilman Sam Liccardo, who was also endorsed by the organization, has been elected the next Mayor of San Jose, California.
On Tuesday, as predicted by several national polls, the Republican party took control of the U.S. Senate, while expanding its majority in the House of Representatives.
The 2014 election also featured the nation's first Ethiopian American candidate for political office, Professor Mohammed Tahiro, who appeared as the only write-in candidate for the U.S. Senate from Texas.
In Colorado's 6th Congressional District Republican Congressman Mike Coffman, who made campaign stops at four Ethiopian churches this past Sunday seeking last minute Ethiopian American votes, has also been re-elected to a fourth term.

—
Related:
2014 Election: Running Away From Obama Is What Cost Democrats (Opinion)
Sam Liccardo Elected Mayor of San Jose
Republicans Take Control of US Senate
Republican Congressman Mike Coffman Visits Four Ethiopian Churches in Colorado
US Election 2014: A Record Number of African Americans Running for Office
Who's Who in the Nov. 4 Election
What You Need to Know About Tuesday's Midterm US Elections
Mohammed Tahiro Interview: First Ethiopian American Candidate for U.S. Senate
Ethiopian American Council Endorses Congressman Mike Honda for Re-Election
Join the conversation on Twitter and Facebook.