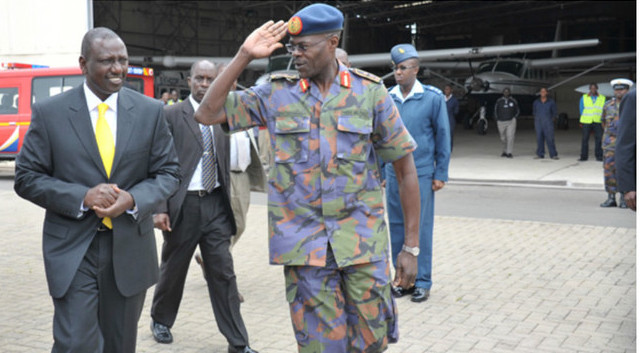 By Macharia Gaitho

I learnt last week that Ethiopia has amongst the most liberal and progressive media laws in Africa. Its constitution guarantees freedom of media alongside all the other basic civil and political rights.
Ethiopia, we were told by Deputy Prime Minister Demeke Makonnen, has no journalists in jail contrary to Western propaganda.
If there were any journalists who had ended up on the wrong side of the law, they were tried and jailed, not because of anything they wrote, published or broadcast, but because they were "clandestine terrorists".
The Deputy Premier told delegates at the African Media Leadership Forum in Addis Ababa last Friday that with the terrorist threat, national security remained of paramount importance. Journalists or anyone else who crossed the line, he assured a stunned audience, would continue to suffer the severest penalties.
Listening keenly as the Ethiopian leader spoke was his Kenyan counterpart, Deputy President William Ruto, who had been drafted in late in the day to deliver the keynote address after President Uhuru Kenyatta decided to snub the meeting despite advance confirmation.
Mr Makonnen had introduced to the audience a new term in the lexicon, "clandestine terrorist", and that was after Mr Ruto in the keynote address before him had come up with his own gem: "Media assassins".
The two leaders had kept the audience waiting for quite a while before making their entrance into the conference hall.
One can only imagine that they were rehearsing a coordinated tag-team counter-attack to the media freedom issues in their respective countries that had dominated the first day of the forum.
Repression of the media is commonplace in Ethiopia. The forum organised by the Nairobi-based African Media Initiative took place against the backdrop of a boycott campaign over the choice of venue.
At least seven Ethiopian journalists are serving lengthy jail terms under terrorism laws. Dozens have fled into exile or opted to pursue safer occupations in a country that stands atop the ranks of the most dangerous places in the world for journalists.
The Ethiopian Government, as seen in the opening remarks from Prime Minister Hailemariam Desalegn on the first day, remains unapologetic. It is terrorists it throws into the dungeons, not journalists.
Kenya, by contrast, has always been a media paradise. Despite occasional excesses and clampdowns, free-wheeling culture and traditions anchored by liberal constitution regime have allowed a free media to blossom.
Mr Ruto seemed to have come to Addis Ababa to disabuse all such notions, and impress his Ethiopian hosts in the midst of a raging debate over Kenya's tough new anti-media laws.
A speech that bore all the hallmarks of President Kenyatta's most hardline strategists, was heard in stunned silence as the audience tried to digest a message that seemed to hark back to the era of the Jomo Kenyatta and Daniel arap Moi one-party dictatorships.
The speech sought to lend an intellectual sheen to repression, arguing that campaigns for media freedom and freedom of expression that formed the theme of the conference were, in fact, foreign, Western, imperialistic "narratives".
Remember the old tirades against "agents of foreign masters" beloved of Kenyatta 1 and Moi that always signalled the launch of any crackdown against dissenting voices?
That was what Mr Ruto brought to Addis. His message was that anyone agitating against repressive media laws and against curbs on freedom of expression, speech, association, assembly and other guarantees in the Bill of Rights was not a patriotic and loyal Kenya, East African and African; but a tool and agent of imperial and neo-colonial powers.
It was a frightening message, to put it mildly. Mr Ruto found time in his address to make the pro-forma assurances that the freedom of media in Kenya is guaranteed and there is no chance of reversal to repression.
But his cardinal message was heard. We are all agents of foreign interests, and therefore fair game to be treated as traitorous, treasonous, saboteurs.
With that mindset, the announcement that the media laws will not get President Kenyatta's assent is not very reassuring.
—
Related:
Africans Tweet on Ethiopian Press Freedom at African Media Leaders Forum (Storify)
At African Media Leaders Forum in Addis, Press Freedom Isn't Top Concern (VOA News)
Addis Hosts African Media Leaders Forum (ERTA)
Africans Must Speak Up for Journalist Jailed in Ethiopia (The Guardian Africa Network)
2 Ethio-Mihdar journalists arrested for reporting on Corruption (CPJ)
Africa's Journalists Honor Jailed Ethiopian Editor Woubshet Taye (CNN Photos)
The Challenges of Independent Media In Ethiopia: Tadias Interview With Ron Singer
Join the conversation on Twitter and Facebook.