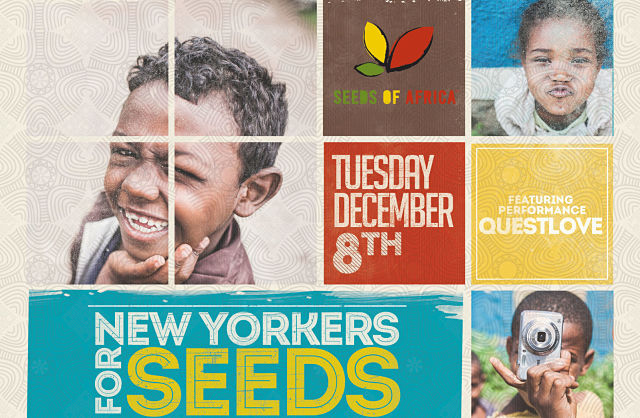 Tadias Magazine
By Tadias Staff
Published: Monday, November 16th, 2015
New York (TADIAS) – Seeds of Africa Foundation has announced that it will host its annual New Yorkers for Seeds fundraiser event on Tuesday, December 8th in Manhattan. The non-profit, which was founded by Atti Worku (Miss Ethiopia 2005), shares that "the event will celebrate the organization's mission to provide quality education and community development programs in Adama, Ethiopia through the Dream School Initiative."
Launched in October 2014, the Dream School Initiative aims to raise $2.2 million in two years to fund "the creation of an Ethiopian academy and community center to serve up to 600 students, their families and the Adama community at large."
"It will meet the most rigorous international academic standards and prepare its students to succeed in high school, college and beyond," the press release said. "Featured in WABC, NBC, Huffington Post, the Wall Street Journal, D Magazine and more, Seeds of Africa is a leading organization offering a successful business model for assisting communities in Africa with the tools to accomplish educational and entrepreneurial development."
Earlier this year Atti Worku was honored with the 2015 African Youth Excellence Award. The prize, which is given annually by the U.S.-based research and youth advocacy organization AYE, celebrates "the achievements of a dynamic young African leader in the Diaspora." The former Miss Ethiopia, who graduated from Columbia University in 2014 focusing her studies on sustainable development, education and social movements, has raised over 1.3 million dollars so far to build a state-of-the-art education facility in her hometown of Nazret/Adama in Ethiopia.
Tadias Magazine is a media partner for the December 8th fundraiser, which features a DJ performance by Questlove; Actor & Producer Gbenga Akinnagbe (The Wire, The Following, 24, The Good Wife); Musician Cakes da Killa; and Alexander Soros, Founder of the Alexander Soros Foundation.
Cocktails will be served courtesy of Owl's Brewery.
—
If you go:
New Yorkers for Seeds Annual Fundraiser
Tuesday, December 8, 2015
6PM – 7PM: VIP Reception with Ethiopian Coffee Ceremony
7pm – 10PM: Evening Program
Studio 450
450 West 31st Street, NY, NY
You may purchase tickets for the Dec. 8th event here:
Related:
Miss Ethiopia Atti Worku Receives Diaspora 2015 Youth Excellence Award
Atti Worku Raises $1.3 Million for School Initiative in Nazret
Former Miss Ethiopia Atti Worku's Dream School Initiative in Nazret, Ethiopia
Interview with Atti Worku: Founder of Seeds of Africa Foundation
Join the conversation on Twitter and Facebook.