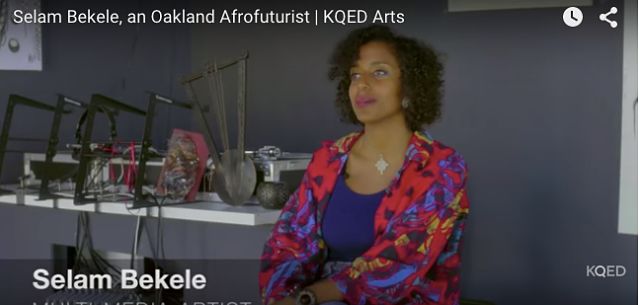 Tadias Magazine
By Tadias Staff
Published: Monday, November 16th, 2015
New York (TADIAS) — Last year we highlighted Ethiopian multimedia artist and experimental filmmaker Selam Bekele who was awarded a creative grant by the Yerba Buena Center for the Arts to create a collection of work that deals with belonging and migration for the East African Diaspora in the San Francisco Bay Area.
For the project Selam — who had recently graduated from the University of California in Davis with degrees in Visual Communications and Film Production — made her first short film entitled Prince of Nowhere, based on her personal reflections about the exiled life and death of Prince Alemayehu Tewodros, the son of Emperor Tewodros who was taken to England after the death of his father.
Since then the artist, who now lives in Brooklyn, has exhibited her work in New York, Philadelphia, San Francisco, and Seattle.
"Now I am working on a whole new series incorporating many Ethiopian folktales and concepts," Selam tells Tadias.
Her new body of work, which was featured on Public Broadcasting Service (PBS) Art Beat program last week, is called "Afrofuturism."
"Bekele described Afrofuturism, a growing artistic movement, as a mix of science fiction and social justice," PBS notes. "The movement uses elements of fantasy and magical realism to examine narratives from the African Diaspora and construct stories of the future."
"I'm seeking to break through definition and break through time.. to find stories that go beyond that and speak to the human spirit," Selam told PBS.
"Afrofuturism is especially prevalent in the Bay Area, and I think that it's a response to lack of place and lack of belonging for the Black community," Selam said. "I think what I'm trying to do creatively is to create platforms of home and remove the stigma of not necessarily being in one place in one time, and not necessarily having one place to call home."
Watch: Selam Bekele, an Oakland Afrofuturist | KQED Arts

—
Join the conversation on Twitter and Facebook.