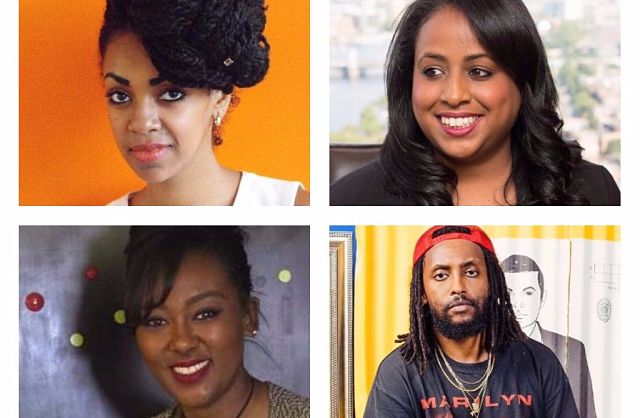 Tadias Magazine
By Tadias Staff
November 17th, 2017
New York (TADIAS) — Forbes Magazine has released its influential annual list of 600 young trailblazers in 20 different industries. The 2018 list features four Ethiopian American professionals in their twenties working in finance, media, art & style as well as law & policy.
The Ethiopian Americans highlighted in Forbes' 30 Under 30 list include Tsion Gurmu, Legal Fellow at African Services Committee in New York City; Saron Tesfalul, Vice President at Bain Capital in Boston; Lilly Workneh, Senior editor, Black Voices, HuffPost in New York; and Awol Erizku, Artist, also from NYC.
Below are their bios:
Tsion Gurmu
Legal Fellow, African Services Committee
Inspired by her family's experience as asylum seekers from Ethiopia, Tsion Gurmu launched an initiative at the African Services Committee to provide pro bono legal help and social support for black LGBT refugees fleeing anti-homosexuality legislation in their home countries. The NYU law grad especially focuses on refugees affected by HIV/AIDS.
Saron Tesfalul
Vice President, Bain Capital
Specializes in consumer retail area, working on big deals for Bain Capital's $9.4 billion North America private equity fund. Had previously been a consultant with Bain & Co.
Lilly Workneh
Senior editor, Black Voices, HuffPost
An immigrant from Ethiopia, Workneh is the Senior Editor for Huffington Post's Black Voices, an initiative that seeks to elevate marginalized voices on a mainstream media platform. She manages both its editorial and social content, tripling reach in her tenure. One of the best parts of running a leading website dedicated to black culture? Interviewing Oprah.
Awol Erizku
Artist
Born in Ethiopia and raised in the South Bronx, Erizku earned an MFA at Yale. Best-known for shooting the artful Instagram photo of Beyoncé announcing she was pregnant with twins in early 2017, he had already made a mark on the art world map in a series of exhibitions challenging the dominant white aesthetic. He produced one of his best-known pieces while he was an undergrad at Cooper-Union: "Girl With a Bamboo Earring," a photo of his sister that recalls the classic portrait by Vermeer. Based in Los Angeles, he's had solo shows in New York, London, Brussels, L.A. and Miami and his films and photos have screened at MoMA in New York.
Read the full list at Forbes.com »
—
Join the conversation on Twitter and Facebook.