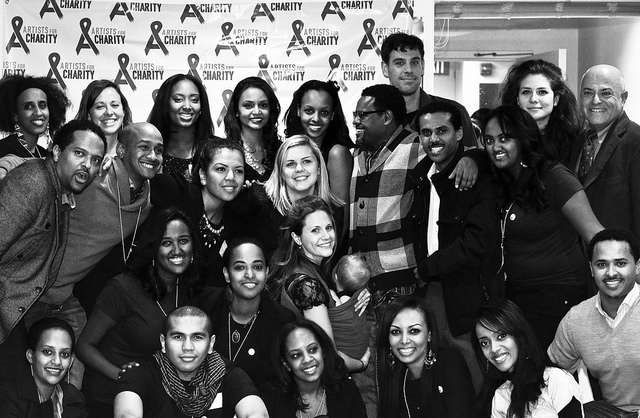 Tadias Magazine
Events News
Updated: Wednesday, November 21, 2012
Washington,D.C. (TADIAS) – For the past six years Artists for Charity (AFC), a D.C.-based non profit organization founded by Ethiopian American artists, has been gathering a network of volunteers and supporters for an evening of fun at their annual art auction to benefit a home for HIV positive orphans in Addis Ababa.
In a press release AFC said it will host this year's event on Saturday, December 1st. "The benefit will be held on World AIDS Day and will feature artwork from local and international artists," the organization said. "Artwork made by children from the AFC Children's Home in Ethiopia will also be featured in the benefit."
The AFC Children's Home houses young people infected with HIV, who have lost both their parents. The home provides food, shelter, medical care, school fees and supplies for the children. AFC also has additional projects including an Artist-in-Residency program, which allows qualified volunteers to spend up to a year in Ethiopia while sharing their creative talents with AFC children.
"AFC was one of the first few places to accept children living with HIV in Ethiopia, with the strong belief that through love, support and access to good healthcare and treatment, these children would not only survive, but they would thrive," the organization said in the press release. AFC noted that one of its first students is now in college.
—
IF You Go:
AFC's 6th Annual Holiday Benefit & Art Auction
Saturday, December 1, 2012 at 7:00 PM
DC Architecture Center
421 7th St. NW Washington, DC 20004
To learn more about AFC visit www.artistsforcharity.org.
—
Watch: Artists for Charity (AFC) Children's Home – Their Story


—
Join the conversation on Twitter and Facebook.