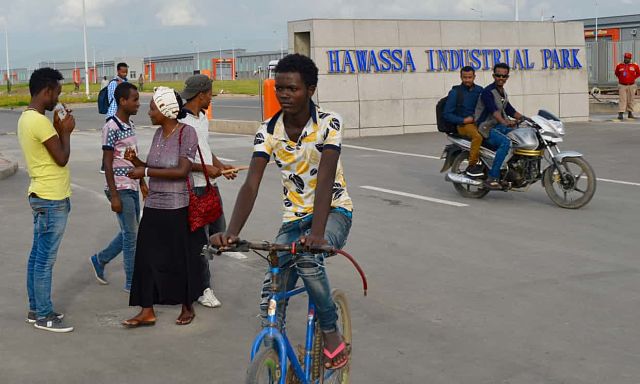 Park life: workers struggle to make ends meet at Ethiopia's $250m industrial zone
Concentrating intensely, Haimanot Ayele picks up three pins from a pile and places them into a hole on a wooden board. He repeats the exercise for 90 seconds – a test of his dexterity.
The 23-year-old has travelled 56 miles to the city of Hawassa, in southern Ethiopia, to try out for a job in the textile business at the Chinese-built industrial park – a facility that should eventually cover 300 hectares (741 acres) – which was opened by the government in July 2016 to boost the economy and help it break free from aid.
The site in Hawassa is one of a number of similar facilities the authorities are building across Ethiopia. Manufacturers at Hawassa Industrial Park (HIP), situated on the outskirts of a city flanked by a picturesque Rift Valley lake, are supported with cheap electricity, free water and on-site administration services. Tax breaks are generous and rents are low, set at about $25 (£18.50) per square metre a year by the government, which compares with an average of $245 per square metre at auctions in Hawassa in 2015.
'We fear for our lives': how rumours over sugar saw Ethiopian troops kill 10 people
As wages in Asia rise, the strategy is to lure manufacturers seeking lower costs to one of the world's least developed countries, which is still dominated by subsistence agriculture. Ethiopia's government wants to create jobs for a growing population and generate hard currency from exports to invest in upgrading the economy. The schemes are also part of European migration policy: donors have pledged to mobilise $500m for two other industrial parks, as long as Ethiopia ensures that a third of the 90,000 jobs expected to be created go to refugees.
So far, the approach seems to be working in Hawassa, at least in terms of job creation. Since opening, HIP's 52 units have already been leased out by 18 firms, including PVH, the US owner of brands such as Calvin Klein and Tommy Hilfiger. PVH suppliers occupy about a third of the other sheds at HIP. As well as profiting from cheap overheads and labour costs, PVH – whose $8.2bn turnover last year was close to Ethiopia's projected 2017-18 tax revenue ($8.5bn) – will also benefit from duty-free access to US and European markets under deals for poorer nations…
But there are challenges. Of most concern are wages.
—
Join the conversation on Twitter and Facebook.