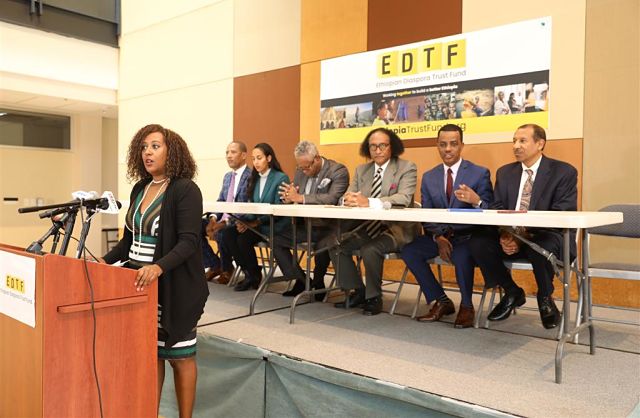 Tadias Magazine
By Tadias Staff
Published: December 5th, 2018
New York (TADIAS) – Last weekend at the Ethiopian Embassy in Washington, DC, Tadias Magazine participated in a press conference held by the recently established Ethiopian Diaspora Trust Fund where its advisory council members briefed the media on their organization's objectives, current fundraising status as well as future plans to engage the larger Ethiopian Diaspora community.
One of the newsworthy moments came at the end of the event when leaders of a D.C.– metropolitan area organization called Ager Fiker were called to the stage. AgerFiker.com was one of several local initiatives that had been launched prior to EDTF's formation, who answered PM Abiy's challenge to the Diaspora for "a dollar a day" this past summer. However, the presence of multiple websites soliciting money for the same mission ended up creating confusion among donors. In an interview with Tadias last month EDTF advisory board member Dr. Bisrat Aklilu said that they were appealing to these organizations and websites to join them under "the big tent," noting that they were run by "well-meaning people with good intentions." At the press conference Ager Fiker responded by donating $60,000 dollars that they had collected through their website as well as from family and friends to EDTF, and further plan to transform themselves into a volunteer chapter.
EDTF advisors who took part in the press conference included Professor Alemayehu (Al) G. Mariam, Dr. Menna Demessie, Tamagne Beyene, Lulite Hailu Ejigu, Robsan Itana, Dr. Zaki Sherif and Tashitaa Tufaa.
Professor Alemayehu, who is Chairman of EDTF, pointed out that they are also in the process of selecting Diaspora representatives (two people from the USA) to sit on the Fund's newly forming Board of Directors in Ethiopia. He said they are currently looking for qualified candidates to fill the post and are developing a criteria for the position. He promised to make the process more transparent and engage the public in making recommendations.
While addressing the same question Tamagne Beyene broached the intriguing idea of using voting mechanisms, but quickly dismissed it as being impractical. (Although it's worth mentioning that the proposition is not unusual in many Diaspora communities in the United States who do vote on a regular basis, including online, to select their representative leaders).
The current EDTF Advisory Council is made up of a diverse group of individuals including former human rights activists, former opposition members, business owners, academics, artists, economists, lawyers, medical doctors, financial advisors and a retired UN official.
During the press conference the group was asked why there were only two women on the stage who were totally outnumbered by their male colleagues; this stood in stark contrast to PM Abiy's administration in Ethiopia. Prof. Al Mariam acknowledged that the gender gap was an "obvious weakness" that they are working to resolve, by appointing both women and youth ambassadors. To be more accurate the 18-member council has three women including Mimi Alemayehou, Managing Director of Black Rhino Group & Executive Advisory and Chair of Blackstone Africa Infrastructure, who was not present at the media event.
Overall the press conference was an informative and much-needed event as EDTF continues to grow its mobilization efforts globally and increase donor participation.
—
Related:
Watch: Ethiopian TV report on EDTF Press Conference (Amharic)
Interview: Dr. Lemma Senbet on the Diaspora Trust Fund & Chapter Formation
Interview with Dr. Bisrat Aklilu About the Ethiopian Diaspora Trust Fund
A Diaspora Trust Fund for Ethiopia (Tadias Editorial/July 10th, 2018)
You can learn more about the fund and contribute at ethiopiatrustfund.org.

Join the conversation on Twitter and Facebook.