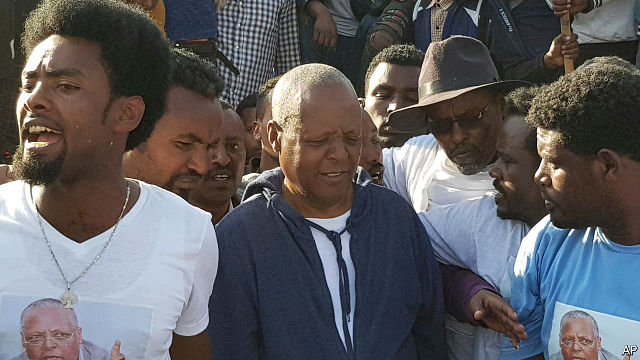 Dissent in Addis: Ethiopia's regime flirts with letting dissidents speak without locking them up
LIFE in Maekelawi, a prison in Addis Ababa, the capital of Ethiopia, had a predictable rhythm. Three times a day, Atnaf Berhane and Befekadu Hailu were hauled from the dank, dark cell they nicknamed "Siberia" for three hours of interrogation and beating. Mr Hailu was flogged across his bare feet with an electric cable. Mr Berhane escaped this particular cruelty. "I was lucky," he says.
The two Ethiopian activists, members of a blogging group known as Zone 9, were arrested in 2014. After three months in Maekelawi they were charged with terrorism. After 18 months behind bars those charges were dropped, though both are still accused of the lesser crime of inciting violence. Ethio Trial Tracker, a website, claims that 923 Ethiopians are in prison on terrorism charges. Human Rights Watch, a pressure group, counts thousands more detained for their political opinions.
The ruling Ethiopian People's Revolutionary Democratic Front (EPRDF) has a habit, always denied, of jailing its political opponents. So many observers were surprised when, on January 3rd, the government announced plans to release some political prisoners, turn Maekelawi into a museum and "widen the democratic space". On January 17th it freed Merera Gudina, the country's most prominent opposition leader, along with 527 other prisoners. The attorney-general said more prisoners would be released in the coming months, including some of those convicted of terrorist offences. "If the government means what it says, then it has a chance to write a new chapter in Ethiopian history," says Mr Merera. Since his release thousands have come to see him, some bringing oxen to slaughter in the festivities.
—
Related:
Ethiopia's leading opposition figure warns of unrest if dialogue fails (AFP)
Ethiopia: Media Roundup of Reactions to Announced Release of Political Prisoners
Join the conversation on Twitter and Facebook.